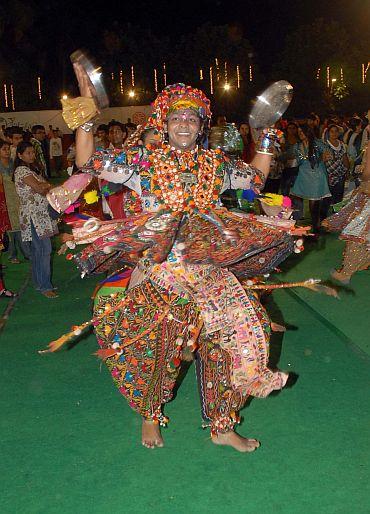 Upcoming Navratra festivities will be under the scanner of Election Commission which is likely to ban all kind of political activities in poll-bound Gujarat and Himachal Pradesh during the nine-day affair.
Navratras, which is especially a big festival in Gujarat, will begin from Tuesday. Although the Commission is taking a final view on the matter and is expected to issue orders in a day, EC sources said that though no politician would be barred from attending navratra ceremonies in poll-bound states, they would be directed to adhere to riders and asked them not to deliver political speeches on the religious occasions.


The commission is further deliberating on whether to allow political leaders and poll contestants to be chief guests on navratra ceremonies.
The use of religion and religious spaces for campaigning during elections is not allowed as per existing election norms.
It would be under these rules that the EC will direct politicians against making political speeches on religious functions of navratras.
Top EC officials said the onus of adherence to the rule would be not just on the individual politician but also apply to organisers of the navratra functions. The organisers, they said, were being given conditional permission to hold festivities.
The rule will apply to both Himachal Pradesh where the process of electioneering has begun with the issue of formal election on Wednesday as well as Gujarat where the election notification would be issued on November 17 and 23 for the two-phase polling that will happen on December 13 and 17.
Himachal Pradesh goes to polls on November 4. CCTVs would be installed on the location of navratra fairs to help election officers monitor the conduct of politicians attending religious ceremonies, the sources said.
© Copyright 2022 PTI. All rights reserved. Republication or redistribution of PTI content, including by framing or similar means, is expressly prohibited without the prior written consent.