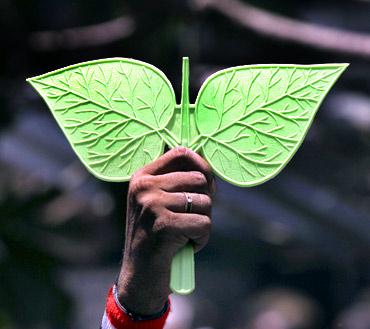 The Election Commission on Wednesday night issued an interim order freezing the 'two leaves' election symbol of All India Anna Dravida Munnetra Kazhagam, saying both the rival camps cannot use the party symbol as well as its name for the prestigious R K Nagar assembly bypoll.
After a day-long hearing New Delhi, the commission said since there is little time available with it to issue a final order, it is issuing an interim one.
Thursday, March 23, is the last date to file nominations for the April 12 bypoll.
The interim order will place both the rival groups on even keel to protect their rights and interests, it said.
"Neither of the two groups shall be permitted to use the name of the party 'All India Anna Dravida Munnetra Kazhagam' simplicitor; neither of the aforesaid two groups shall also be permitted to use the symbol 'Two Leaves', reserved for 'All India Anna Dravida Munnetra Kazhagam'," the order said.
It said both the groups shall be known by such names as they may choose for their respective groups, showing, if they so desire, linkage with their parent party.
Both the groups will also be allotted such different symbols as they may choose from the list of free symbols notified by the Election Commission.
The bypoll was necessitated following the demise of J Jayalalitha.
The OPS camp has announced E Madhusudhanan's name as its candidate for the bypoll in R K Nagar.
T T V Dinakaran, AIADMK Deputy General Secretary and nephew of Sasikala, is the candidate of the other camp.