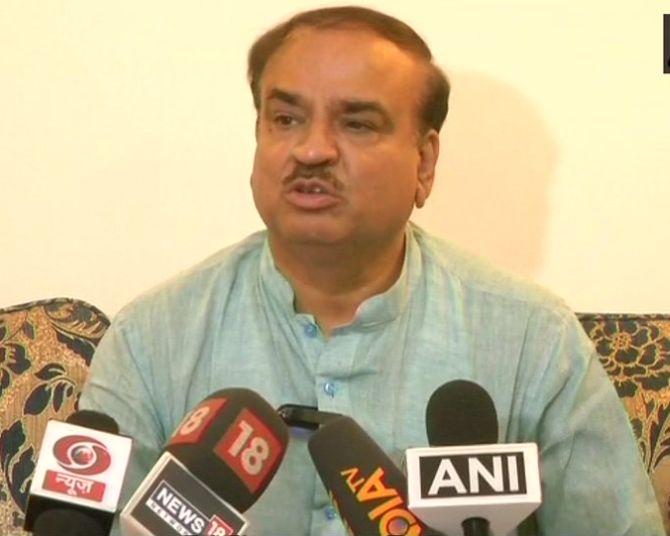 Union minister Ananth Kumar on Thursday said 400 MPs of the ruling National Democratic Alliance would give up Rs 3.66 crore -- their salary for 23 days of the ongoing budget session that has been a virtual washout due to protests by the opposition.
Kumar blamed the Congress for the near washout of the second half of the budget session that will end on Friday, denouncing it for engaging in "negative and anti-democratic" politics.
The parliamentary affairs minister said the kind of politics the Congress was playing would affect them badly in Karnataka, where the assembly polls will be held in May.
"We have not been able to debate and pass important bills in Parliament for the last 21 days. The Congress disrupted the proceedings in both the Houses. Since no business has been transacted, we have decided to forego our salary and allowances for 23 days," Kumar told reporters.
It is for the first time that all MPs of a ruling party or coalition are giving up their pay, he said, adding that this would have a long-term impact.
Each MP draws about Rs 1.6 lakh per month as salary and allowances. Of this, Rs 91,699 would be given up, he added.
Kumar alleged that the Congress was becoming increasingly intolerant to the people's mandate for the Modi government.
"That is why they are indulging in negative politics by stalling Parliament," he claimed.
"We have taken a historic decision to forego our salary. Let them (Congress) decide what they want to do. They should respond to the people of this country," Kumar said.
Parliament has not carried out any substantial work over the last 22 days. The second part of the session, which began on March 5, is scheduled to end on Friday.
The crucial Finance Bill was cleared in the Lok Sabha without any discussion.
Also, a no-confidence motion against the government, moved in the Lok Sabha by various opposition parties, could not be taken up.