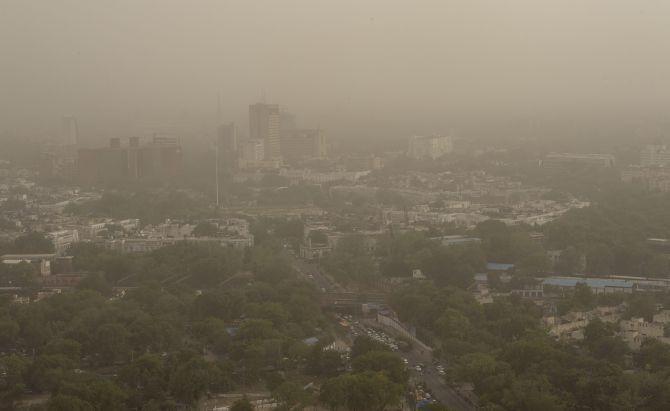 Dust storms hit various parts of Uttar Pradesh, leaving 15 people dead and 28 injured, an official spokesman said on Thursday.
"Fifteen people were killed in dust storm (since Wednesday). Six died in Sitapur, three each in Gonda and Kaushambi and one each in Faizabad, Hardoi and Chitrakoot," the spokesman said in Lucknow.
Besides, 17 people were injured in Sitapur and 11 in Faizabad, he said.
The weather department has warned that thunder squall is 'very likely' at isolated places over the state on Friday, while rain and thunderstorm accompanied with gusty winds are 'very likely' at isolated places during the next two days.
Meanwhile in New Delhi, air quality in the national capital remained 'severe' for the third day on Thursday, prompting authorities to alert people to avoid staying outdoors and Delhi's Lieutenant Governor Anil Baijal to order halt in all civil construction activities across the city till Sunday.
A thick blanket of haze has been enveloping Delhi and parts of the National Capital Region (NCR) for the last few days. Referring to India Meteorological Department data, the environment ministry also said that the dusty condition will remain for the next two days.
Union Environment Minister Harsh Vardhan also directed agencies to be on 'maximum' alert and ensure all necessary measures to contain sources of dust.
The 24-hour average concentration (rolling) of PM10 was 1,400 microgrammes per cubic metre (ug/m3), more than three times above the severe level, said Gufran Beig, a scientist at the Centre-run System of Air Quality and Weather Forecasting and Research institute (SAFAR). The severe level begins at 430 ug/m3.
"The pollution caused due to dust storm was expected to settle but the wind speed reduced yesterday (Wednesday), causing the dust that entered Delhi to get trapped in the atmosphere leading to prolonging of pollution," Beig said.
According to the CPCB, the air quality index (AQI) - a measurement of the concentration of toxic particulate matter in the air - at several places in Delhi remained over 500.
The PM10 level (presence of particles with diameter less than 10mm) was at 756 in Delhi-NCR and 785 in Delhi, leading to hazy conditions.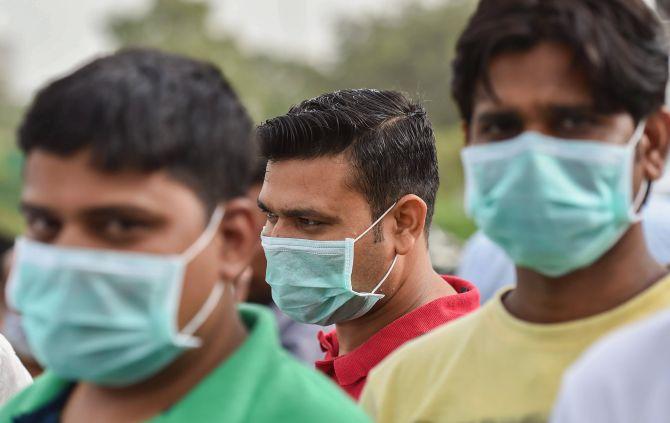 The PM2.5 level (presence of particles with diameter less than 2.5 mm) worsened and became severe from very poor level in the past 24 hours in Delhi-NCR at 268 and Delhi at 277.
"Today (Thursday) even the PM2.5 level has gone to severe from very poor. It happened because of the reduced wind speed has led to accumulation of smaller particles and increasing the PM2.5 level," Beig said. An AQI between 0-50 is considered 'good', 51-100 'satisfactory', 101-200 'moderate', 201-300 'poor', 301-400 'very poor', and 401-500 'severe'.
Meanwhile the environment ministry said that the Task Force under the Graded Response Action Plan (GRAP) met in Central Pollution Control Board (CPCB) and recommended that construction activity-related enforcement measures under the Graded Response Action Plan (GRAP) be brought into operation immediately.
The ministry said that air quality of Delhi and NCR, which worsened on June 12-13 due to the incoming dust from Rajasthan, has shown a slight improvement today, with PM10 declining to 759 µg/m3 at 4 pm from a peak of 823 µg/m3 at 5 pm on Wednesday.
'In view of the seriousness of the situation, Union Environment Minister Harsh Vardhan has directed concerned agencies to be on maximum alert and to ensure all necessary measures to contain sources of dust and to check garbage burning. He also appealed to the people to avoid unnecessary exposure, given the prevailing situation,' an official statement said.
Baijal ordered stoppage of all civil construction activities across Delhi till Sunday as part of emergency measures that also include intensifying mechanical road sweeping.
According to the L-G office, civic bodies, public works department and Delhi Pollution Control Committee have been directed to impose penalties on all road construction agencies for violating laid down norms for dust control measures.
He said emergency measures like stoppage of all civil construction activities till 17th June have been taken and further monitoring would be done by agencies like National Highways Authority of India, Delhi Metro Rail Corporations, Municipal Corporations of Delhi, PWD and NBCC to ensure compliance.
In a statement, the L-G office stated that the municipal corporations, Delhi Development Authority (DDA) and SDMs will strictly enforce prohibition on open burning of garbage, plastics and leaves in the national capital.
'Municipal Corporations and PWD will intensify mechanical road sweepings, sprinkling of non-potable water at central verges and roadsides and stop brooming activity on main roads,' it stated.
The meeting was attended by minister Imran Hussain, Chief Secretary Anshu Prakash, EPCA Chairman Bhure Lal, senior government officers and the Centre for Science and Environment (CSE) director general and EPCA member Sunita Narain.
The L-G said that a massive afforestation drive would be conducted across Delhi from July 15 to September 15. Narain said that 'severe plus' category has been imposed for dust pollution under the Graded Response Action Plan (GRAP) with immediate effect till Sunday.
"That means shutting down of all civil construction activities till June 17.
"We have been told by the MeT Department that rain is likely to take place on Saturday, which will mitigate this bad weather situation, we have enforced it till Sunday," she told PTI.
The EPCA's action plan, termed GRAP, has formulated five categories. These are severe plus or emergency, severe, very poor, moderate to poor and moderate.
Low visibility due to dusty weather conditions led to cancellations of all flights to and from the Chandigarh International Airport on Thursday, while the Haryana pollution control Board advised against construction activities in NCR districts for the next two days.
Dusty weather prevailed in most parts of Punjab and Haryana, and visibility levels dropped. The meteorological department said the situation would improve only by on Friday.
A Chandigarh International Airport Limited official said, "As a result of disruption due to bad weather, all flights from Chandigarh were cancelled today (Thursday)."
The weather department here said a ground-level dust storm in Rajasthan, with wind speeds up to 40 kmph, had led to a spike in the levels of coarse particles in the air in most parts of Haryana and Punjab, including Chandigarh, since Wednesday.
Director of Chandigarh's MeT Department Surinder Paul told PTI that a western disturbance approaching the region was likely to clear the air.
Meanwhile, the maximum temperatures registered a drop of 2-5°C on Thursday.
Thunderstorm with squall is likely at isolated places of Haryana and Punjab on June 15 and 16, the MeT department said.
The Haryana State Pollution Control Board issued advisory that no construction activities should be carried out for the next two days in districts falling under NCR.
It also advised that no hot mix plants and stone crushers be operated for the next two days in the districts.
'Delhi and NCR areas and other parts of Haryana have been experiencing a very severe air pollution due to dust storm with PM 2.5 level crossing even 500g/m3 and considerably higher PM 10 values.
'These dust storms have been attributed to storm and the winds coming from the regions of Rajasthan and beyond. Meteorological Department has informed that similar conditions will continue to prevail for next few days,' the advisory stated.
Taking cognisance of these facts, the Pollution Control Board has also issued an advisory to all deputy commissioners and municipal commissioners of NCR districts in Haryana to ensure frequent sprinkling of water to help settle the dust, to keep strict vigil on the garbage burning activities through deployment of special teams, increasing frequency of mechanised cleaning of roads and identifying road stretches with the high dust generation for addressing the issues.
The board has also requested the Haryana health department to issue an advisory to the public on precautions to be taken during dusty weather conditions.
Haryana's Environment Minister Vipul Goel said the HSPCB was monitoring the pollution level and would advise further necessary steps in consultation with the Supreme Court-mandated Environment Pollution (Prevention and Control) Authority and the Central Pollution Control Board.
The air quality in parts of Punjab also took a hit today due to dust and hazy weather.
An official of the Punjab Pollution Control Board pointed out that air quality index was alarmingly high in many cities of the state due to dust pollution.
The air quality index level recorded in many cities of Punjab today was way above permissible limits. In Jalandhar, it was 425, in Ludhiana 488 and in Patiala it was 456.
The official said children and aged people should take every precaution and avoid going out as the prevailing weather condition could adversely impact their health.
A pall of haze also obscured the landscape in hills of Himachal due to dust storm in adjoining plains, but sharp showers in the evening cleared the mist in Shimla and adjoining areas.
Scattered rains occurred at some places and Dharamsala was wettest with 42.6 mm rainfall, followed by Nehri (31 mm), Sundernagar (21 mm), Kufri, Rampur (6 mm each), Seobagh (5 mm), Bijahi, Bharmaur, Bhuntar and Manali (2 mm each).
The local Met office has warned of thunderstorm and squall with gusty winds in mid and lower hills from June 15 to 17.
It has forecast rain and thundershowers in mid and lower hills and rain and snow in higher hills for the next five days from June 15 onwards.
Mercury dropped marginally in lower hills and Una recorded maximum temperature at 41.2°Celsius.
Bhuntar and Sundernagar recorded a high of 36.2 and 35.9 °C respectively, followed by Nahan (33.7), Dharamsala (32.4), Solan (31.5), Palampur (31.1), Shimla (27.0), Manali (26.6), Kalpa (25.5) and Keylong (24.3).
There was no significant change in minimum temperatures and Keylong recoded a low of 11.1°C, followed by Kalpa and Manali (11.4 each), Bhuntar (18.4), Shimla (18.7), Palampur (21.5), Sundernagar (22.6), Solan (23.0), Dharamsala (23.2), Nahan (25.1) and Una (27.4).