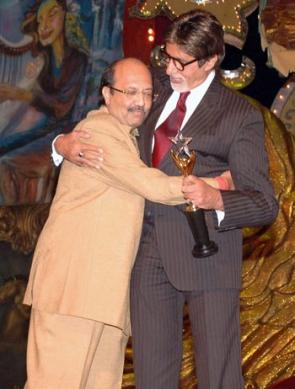 After being deserted by people whose battles he fought, Amar Singh is going to have another go at politics, says Aditi Phadnis
Amar Singh's compulsion to play a knight in shining armour has triumphed over better judgment. Having been turned away from the Congress, he has done a deal with Ajit Singh's Rashtriya Lok Dal, which is part of the Congress alliance.
So while he's not in the Congress, he's still a part of its seat-sharing agreement. He will contest Fatehpur Sikri. He's gone through all these contortions, he says a trifle wearily, for the sake of his loyal friend Jaya Prada, the only other party associate he has left, who will contest Bijnor.
Amar Singh has seen it all, the highs and lows. His life flashed by him when he was on a ventilator fighting for life in Dubai, in Singapore after his kidney transplant, in jail.
His health is a bit better, all charges against him have been dropped but the driving need to stand up and fight for someone's rights and rage, rage against the dying of the light, is unquenched.
You'd have thought he'd have learnt: not one of the people for whom he took on the world is by his side now.
Amitabh Bachchan once said about him, in an interview to Deepak Chaurasia: "Had Amar Singh not been in my life, I would have been on the road, probably have ended up as a taxi driver".
When Amar Singh met Bachchan, his comeback film, Mrityudata, had been an outstanding flop, the income tax department was after him, his Mumbai house was close to being sold, and his company Amitabh Bachchan Corporation Ltd was imploding.
In fact, the perception was that Bachchan was a better actor than he was a businessman.
ABCL had attained the unsavoury reputation of a corporation better known for sharp practices than entrepreneurial initiative.
Amar Singh stepped in for three reasons: it was a chance to play white knight; the business presented a challenge; and, well, it was association with a legend of Indian cinema, after all.
He explained to a reporter at that time, his curious friendship. It was a matter of principle, he said. When big names in Indian business got into trouble, the establishment thought nothing of restructuring bank loans and pulling political strings to bail them out even if it was the Indian taxpayer who paid.
"And for non-payment of Rs 4 crore, they got after Amitabh. I felt he didn't deserve this," he said.
Hindustan Lever Ltd, "a company that sells soap" was asked to restructure the business. It was uncomfortable with the glamour and glitz of show business.
Amar Singh elbowed them out and advised.
Soon after that, Bachchan paid his dues to Doordarshan and Canara Bank, a managerial reshuffle at ABCL saw its name being changed to ABCorp.
And, of course, Amar Singh became a family friend of the Bachchans, going as far as to offering Jaya Bachchan a Rajya Sabha seat on behalf of the Samajwadi Party.
Today, Amitabh is with Narendra Modi in Gujarat. Jaya ignored SP's action of throwing Amar Singh out of the party and opted for a second term in the Rajya Sabha.
During her first term as MP, Amar Singh made her battles his. When the issue of office of profit came up and Jaya had to resign, he raked up the issue of Sonia Gandhi and the membership of the National Advisory Council. Gandhi had to resign as well.
Abu Azmi of the SP threw stones at Amitabh and Jaya Bachchan's Mumbai home after the actor shared a stage with Raj Thackeray. But that made no difference to Jaya's loyalty to SP. Amar Singh was relegated to being just a punctuation mark.
Anil Ambani was the younger son, and Singh felt he had got a raw deal in the division of family spoils. Networking between Mulayam Singh Yadav and Ambani, Singh erased SP's antipathy towards big business, earning the lifelong ire of traditional socialists in SP such as Janeshwar Mishra and Mohan Singh.
Mishra and Mohan Singh are gone and one day, Ambani stopped taking his calls.
About Akhilesh (Yadav), the less said the better. Amar Singh acted as a bridge between father and son. The genesis of the much-touted free laptop scheme was laid five years ago when Singh was still in SP.
But in 2010, when he was thrown out of the party, the younger Yadav didn't say a word in Amar Singh's defence.
Now, Amar Singh is fighting with his teeth bared.
In 2014, Jaya Prada was offered the Moradabad seat by the Congress, which asked her to shift from Rampur, the traditional seat fought by Noor Bano. She turned it down, opting to stay with Amar Singh who negotiated with the RLD to get her the Bijnor seat.
For Mulayam Singh Yadav, it is not Jaya Prada-Amar Singh he is fighting but the influence of Anuradha Chaudhary, whom he dropped from the seat after naming her the SP candidate.
Singh's own seat, Fatehpur Sikri, has Jats, Thakurs and Muslims. Ajit Singh didn't have a candidate for the two seats: now he has two. So it is win-win for everyone -- so Amar Singh hopes.
Amar Singh is India's most maverick of politicians. From being a millionaire in political capital, he is now a minus millionaire. Will he manage to save what he has left?
Image: Amar Singh with Amitabh Bachchan in happier times