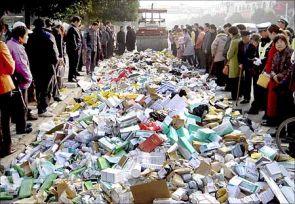 The Jammu and Kashmir government on Tuesday decided to upgrade the drug testing laboratories in the twin capitals of Srinagar and Jammu following an outcry on supply of spurious drugs in the state run hospitals in Kashmir.
A decision was taken at a high level meeting chaired by Minister of State for Health Shabir Ahmad Khan held in Jammu.
The supply of spurious drugs to Kashmir hospitals came to light recently during a random check of the drugs supplied in the hospitals.
It is alleged that an antibiotic supplied in the hospitals, said to contain 500 milligrams of Amoxicillin, actually contained no Amoxicillin at all.
It is also alleged that a lifesaving drug supplied to hospitals was not only sub-standard but contained particulate matter as well.
The Doctors Association Kashmir has demanded an independent probe and threatened to go on an indefinite strike. "All the drugs available in government hospitals should be tested before their use," DAK president Dr Nisar-ul-Hassan said.
Nissar said that the particulate matter found during the test can be glass, fiber, dust or cotton. "It can result in instant death of a person," he said.
The health minister has now passed the direction to the concerned authorities that drugs without testing from competent authority should not be distributed.
The minister has instructed concerned authorities that anybody found involved in supplying of spurious drugs should not be spared and stringent action be taken.
Senior separatist leader Syed Ali Shah Geelani also joined the issue and called for a valley wide shutdown on Saturday to protest the supply of spurious drugs in the hospitals. He demanded lodging of an FIR against the former health minister.