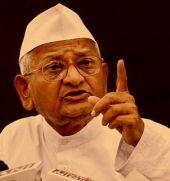 Alleging that drought in Maharashtra is "man-made", social activist Anna Hazare on Saturday said the combine of political apathy and corruption, coupled with unchecked exploitation of water resources, was responsible for parched conditions in the state.
"The drought situation is not natural but man-made as we have exploited our water resources to the maximum possible limits without employing scientific methods of water and soil conservation in many years and the result is for everyone to see," he said.
Hazare was addressing media on the sidelines of inauguration of workshop of Joint Forest Management committees under Chandrapur, Gadchiroli and Nagpur forest circles.
"Soil and water conservation activities should have been taken up by our successive governments long back but Rs 300–400 crore spent so far only resulted in percolation of money into the pockets of political leaders and ministers instead of percolation of water in the land," Hazare said.
Hailing the concept of Joint Forest Management as the first step towards democracy in real sense and transform village economy, Hazare said, "It was very important with respect to the society and the country in turn".
He alleged that successive governments never took people into confidence before pumping money into unscientific methods and the same has resulted in great depletion of underground water levels.
"The problem would be more severe in next 25-30 years if proper precautions are not taken with immediate effect," Hazare said.
Without naming any political party, Hazare said 'chintan shivirs' (brainstorming sessions) have become a medium to plan election strategy instead of deliberating on issues concerning common people.