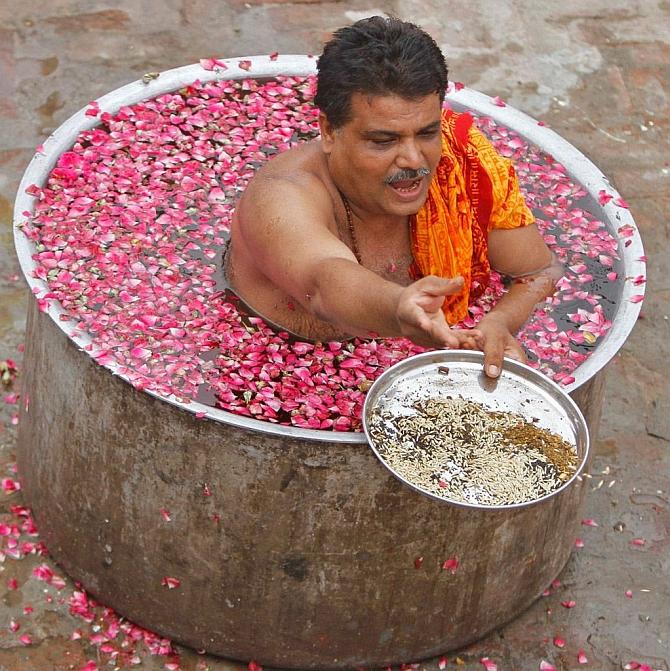 With about 40 per cent deficit rainfall during the monsoon season in parts of the state and shrinkage in sowing area, the Andhra Pradesh government has directed the Tirumala Tirupati Devastanam to "perform yagnas" in temples to propitiate the rain God.
Citing ancient "shastras", the government said these yagnas were performed for the general welfare of society, to increase fertility of soil, to invite rains, welcome peace and health for society.
"Keeping this in view, the EO (executive officer), TTD is directed to perform yagnas and yagams, abhishekams etc for the purpose of receiving bountiful rains every year at the time of onset of monsoon season and also at various other times as is necessary to ensure various benefits to society," a Government Order said.
According to state government officials, Nellore and four districts of Rayalaseema region -- Kurnool, Kadapa, Chitoor and Anantapur -- have received 39.2 per cent less rainfall during the current southwest monsoon.
The government's move has evoked criticism from a section of environmentalists who termed it "laughable".
"In today's day and age, isn't that laughable? Weather phenomena like rainfall and drought are affected by climate change as well as other factors, and there are perfectly rational scientific explanations for why that is happening," a spokesperson of Delhi-based Centre for Science and Environment said in an e-mail reply.
As environmentalists, we have also pointed out time and again where we have slipped in our management of water resources and agriculture. Instead of looking at real solutions, why is the state indulging in exercises such as this, the spokesperson asked.
However, justifying the order, the government said vedic rituals are an important part of the temple culture and since times immemorial, Indians have been performing yagnas and yagams every year to propitiate deities like Lord Shiva, Lord Vishnu, Varuna, Agni and Indra.
A senior official from agriculture department said the four districts of Rayalaseema are "reeling under draught like situation" after receiving significantly lesser rainfall.
The sowing area during the kharif season has shrunk by nearly 40 per cent to 8.77 lakh hectares against the normal 13.68 lakh ha in the four districts, as per official figures.
"Though it was not officially declared as draught like situation in Rayalseema, our department (agriculture) is gearing up to support the farmers with supply of seeds for contingency crops. Also, 1.39 lakh quintals of different seeds like cow pea, horse gram, raagi and pulses are kept ready to be supplied to farmers," the official told PTI.
The rainfall across the state was over 10 per cent less than normal during the current monsoon season, while the sowing area shrunk by over 6.5 lakh hectares as on date, the official added.
Representative Image
© Copyright 2020 PTI. All rights reserved. Republication or redistribution of PTI content, including by framing or similar means, is expressly prohibited without the prior written consent.