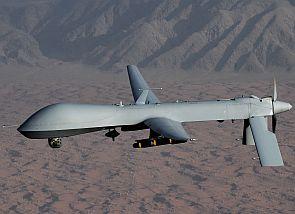 The Federal Bureau of Investigation has for the first time acknowledged that it uses drone aircraft domestically for surveillance in a "very minimal way", even as the Obama administration grapples with the fallout from the public disclosure of its covert spying programmes.
FBI Director Robert Mueller said the law enforcement agency uses unmanned drones within the country for surveillance in certain difficult cases. Mueller told the Senate Judiciary Committee on Wednesday that drones are used by the FBI in a "very, very minimal way and very seldom."
He did not say how many unmanned surveillance vehicles the FBI has or how often they have been used. But CNN quoted a law enforcement official as saying that the FBI has used them a little more than a dozen times but did not say when that started.
The official said drones are useful in hostage and barricade situations because they operate more quietly and are less visible than traditional aircraft such as helicopters.
The FBI said it used a UAV earlier this year to monitor the situation where a boy was held hostage in a bunker in Alabama. FBI spokesman Paul Bresson said their use allows "us to learn critical information that otherwise would be difficult to obtain without introducing serious risk to law enforcement personnel."
Bresson said the aircraft can only be used to perform surveillance on stationary subjects and the FBI must first get approval from the Federal Aviation Administration to fly in a "very confined geographic area."
Mueller's comments come as the Obama administration is trying to wriggle out of the political fallout from the public disclosure of surveillance programmes, which has triggered new debate over reach of national security vs. privacy rights.
President Barack Obama has assured Americans the government is not listening to their phone conversations or reading their e-mail.
But when Senator Charles Grassley, an Iowa Republican, asked Mueller whether the FBI had guidelines for using drones that would consider the "privacy impact on American citizens." Mueller replied the agency was in the initial stages of developing them.
"I will tell you that our footprint is very small," he said. "It is very narrowly focused on particularised cases and particularised needs and particularised cases," said Mueller.
"And that is the principal privacy limitations we have."
US Attorney General Eric Holder said in March that "the US government has not carried out drone strikes in the United States and has no intention of doing so."
In May, Obama said he would curtail the use of armed drones in operations outside the US in countries like Pakistan and Yemen where it is used to hunt down Al Qaeda and Taliban terrorists.
Under the new policy described by the White House, the US will only allow drones to be used in areas that are not overt war zones when there was a "continuing, imminent threat" to the US and capture was not feasible.
Unmanned drone use is becoming more common in the US although it is not lawful in many cases. The FAA forecasts some 10,000 civilian drones will be in use in the United States within five years, including those for law enforcement and commercial purposes.