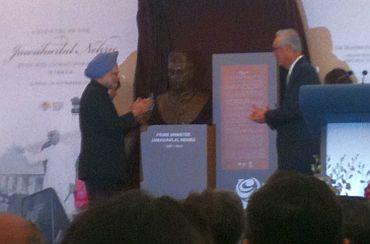 As a 1000-strong Indian community applauded, Prime Minister Dr Manmohan Singh on a rain-filled Sunday evening unveiled a bust of and marker on India's first prime minister Jawaharlal Nehru in Singapore's Asian Civilisation Museum.
Speaking on the occasion, Dr Singh said, "In honouring Nehru you honoured India and all the values India stands for. Secularism, democracy, freedom and the rule of law… This bust and marker will stand as yet another symbol of close relations between India and Singapore."
The marker is fifth in the series of the National Heritage Board's Friends to our Shores series which commemorates eminent personalities from overseas who had a connection to Singapore.
Speaking on the occasion, Singapore's emeritus senior minister Goh Chok Tong said, "This commemorative marker and bust are symbols of the long standing friendship between Singapore and India that Nehru helped foster with his visits."
Other than honouring his achievements, the marker also details Nehru's three visits to Singapore between 1937 and 1950.
Nehru's bust wax created by eminent sculptor and painter Biman Bihari Das and commissioned by the Indian Council for Cultural Relations.
The other four persons so honoured by the NHB are Joseph Conrad, Ho Chi Minh, Dr Jose Rizal, and Deng Xiaoping.
Photograph: Saisuresh Sivaswamy/rediff.com