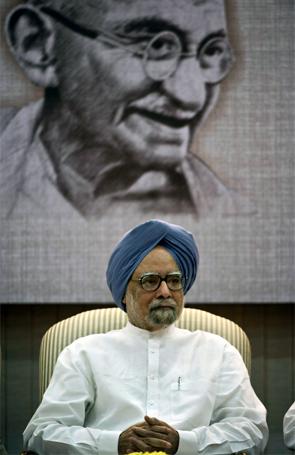 Prime Minister Manmohan Singh should opt for an honourable exit by resigning from the top post -- in the wake of Congress Vice President Rahul Gandhi's outburst against the Union government's ordinance on convicted legislators -- believes Bharatiya Janata Party's senior leader Arun Jaitley.
"After his return from the United States (where he is attending the United Nations General Assembly in New York City), if Dr Singh decides to resign, he will regain his honour. If he doesn't resign, his credibility will erode considerably. As I said yesterday, the prime minister is supposed to leave his footprints in history. But if he doesn't resign, he will not even be a footnote in history," the leader of opposition in Rajya Sabha told rediff.com.
Jaitley claimed that Gandhi's tirade against the Union government, led by his own party, showed that, "He is a rebel without a cause".
Meanwhile, senior journalist Shekhar Gupta, in a column in The Indian Express, has compared Gandhi's snub to Dr Singh to the way then foreign secretary A P Venkateswaran was snubbed by then prime minister Rajiv Gandhi in 1987.
Jaitley told rediff.com that Dr Singh's public humiliation by Gandhi was more comparable to the way Rajiv Gandhi, then a member of Parliament and Congress general secretary, had insulted then Andhra Pradesh chief minister T Anjaiah at Begumpet airport in 1982.
Anjaiah's insult motivated nascent politician N T Rama Rao to form the Telugu Desham, solely on the plank of Telugu Athma Gauravam (self-respect), and oust the ruling Congress government in the next state election.
Rajiv Gandhi had lost his cool on the tarmac of the Begumpet airport because of the gaudy and lavish welcome the Andhra CM had organised for him.
But the public ticking-off of Anjaiah was less grave than the harshest-possible-snub of Dr Singh by Rahul Gandhi after which, says Jaitley, "Dr Singh will be in office without any power whatsoever".
Photograph: Reuters