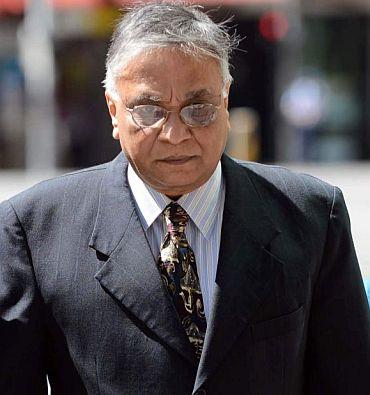 An Indian-origin doctor, accused of manslaughter of several patients in Australia, is likely to walk free after prosecutors on Friday dropped all criminal medical negligence charges against him, ending his long-running legal woes.
Jayant Patel, 63, did not react when he was formally discharged from the indictments in the supreme and district courts in Brisbane.
During the hearing, Prosecutor Peter Davis said the crown would not be pursuing criminal medical negligence charges against Patel, an Indian-born US citizen, after deciding it was not in the interests of justice.
The director of public prosecutions cited the amount of time that had passed, the time Patel has already spent in jail, the strength of Patel's defence and the cost of litigation, more than $3 million, as factors in his decision.
"In all the circumstances...I have decided that it is not in the public interest to continue the counts alleging criminal negligence against Jayant Patel," Director of Public Prosecutions Tony Moynihan said in a statement.

Justice Glenn Martin told Patel he was discharged in relation to all charges before the court.

Patel was facing trial on two charges of manslaughter, two of grievous bodily harm, an alternative charge of negligent acts causing harm, seven counts of fraud and one of attempted fraud.

Earlier, he pleaded guilty to fraud for dishonestly working as a medical practitioner in Queensland, the only charges the Director of Public Prosecutions chose to pursue, the AAP news agency reported.
Patel will be sentenced in the District Court next week.

The Crown Prosecutor told the court that Patel's plea of guilty to four counts of fraud "appropriately reflects" his criminality in relation to the fraud allegation.

Patel remained tight-lipped as he left court on bail with his wife Kishoree, but according to his barrister he is hoping to return to America.
In the ten years since Patel began work as director of surgery at BundabergBaseHospital in Queensland, he has faced three trials and spent two-and-a-half years in jail over allegations he killed and maimed patients.

Patel, who was dubbed 'Dr Death' by the media, was sentenced to seven years in prison in 2010 after a jury convicted him of killing three patients and causing the grievous bodily harm to another.

However, he was released last year following a successful High Court appeal, and separate re-trials were ordered. Patel was acquitted in March of killing patient Mervyn
Morris and last month a jury was unable to decide whether he was guilty of maiming Ian Vowles.
The reaction from his former patients and relatives ranged from devastation to relief.
"I just can't believe that it's all come to this," former patient and patient advocate Beryl Crosby was quoted as saying.
"Now he (Patel) walks, the patients are left to pick up the pieces," Crosby said.
Sixty-six-year-old Vowles, who believes the surgeon removed his bowel unnecessarily, was disappointed with the decision.
"I thought there definitely should have been a decision made one way or the other, guilty or not guilty," he said.

However, Vowles said Patel had not "gotten off scot-free".
"The Crown has decided that it's not in the interest of justice in all the circumstances to further prosecute the medical negligence counts," Prosecutor Davis said.

In his statement, Moynihan said, "In making this decision, I must balance the obvious public interest in the due prosecution and conviction of offenders with the views of the victims or their families, the significant period of time that has passed since the offences are alleged to have been committed, the two and a half years Jayant Patel has spent in custody (and) the inevitable substantial cost of very complex litigation."
"The fact that in the re-trials the defence has presented credible evidence from medical experts and that the Crown has not been able to satisfy the requirement of proving the alleged negligence to the criminal standard. In all the circumstances, including those above, I have decided that it is not in the public interest to continue the counts alleging criminal negligence against Jayant Patel," he said in his detailed statement.