M S Swaminathan, renowned agricultural scientist and a lifelong crusader against hunger who bet on sustainable farming passed away in Chennai on Thursday.
He was 98 and is survived by three daughters including Dr Soumya Swaminathan, the former chief scientist of the World Health Organisation.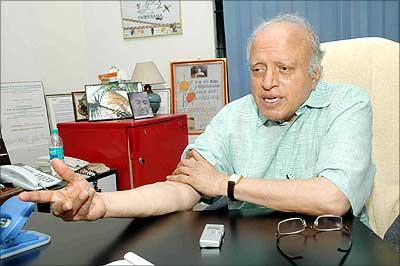 Madhura Swaminathan and Nitya Rao are his other two daughters and his wife Mina Swaminathan predeceased him.
Soumya Swaminathan told reporters here that her father had always been keen on helping women farmers and he was instrumental in establishing women farmers producers organisation.
A staunch advocate of food and nutrition security, it was his path-breaking work that warded off famine during the 1960s.
A Padma Vibushan awardee, he is also the recipient of the first World Food Prize for his leadership in India's green revolution and numerous other national and international awards including the prestigious Ramon Magsaysay award.
The celebrated agriculture icon passed away today at his residence here. His cremation will take place here on September 30 amid honours by the Tamil Nadu police.
Condolences poured in with President Droupadi Murmu and Prime Minister Narendra Modi hailing Swaminathan's yeoman service to the nation.
Murmu said Swaminathan left behind a rich legacy which would serve as a "guiding light to steer the world towards a safer and hunger-free future for humanity.
Modi said his groundbreaking work transformed the lives of millions, ensured India's food security.
Indian Agricultural Research Institute director AK Singh said an era of agricultural research, education and extension marked by disruptive innovations has come to an end with the death of Swaminathan.
Tamil Nadu Governor RN Ravi, Chief Minister M K Stalin, leaders of farmers' bodies including P R Pandian condoled Swaminathan's death.
The Congress party described him as the key scientific architect of the Green Revolution and hailed his contribution to the agriculture sector.
Modi said on X: "Deeply saddened by the demise of Dr MS Swaminathan Ji. At a very critical period in our nation's history, his groundbreaking work in agriculture transformed the lives of millions and ensured food security for our nation."
Former Congress president Rahul Gandhi said Swaminathan's steadfast commitment to revolutionising India's agriculture turned it into a food surplus country.
Karnataka Chief Minister Siddaramaiah and farmer leader Rakesh Tikait were among a host of leaders who condoled Swaminathan's death.
Swaminathan was a part of every key initiative connected to food security and agriculture and his stellar contributions are pioneering including the focus on millets for nutrition security as well.
Fondly addressed as MS by his friends and colleagues, Monkombu Sambasivan Swaminathan, in his long career demonstrated what he advocated-- developing new varieties for food security-- and ensured bumper crops by working side by side with farmers.
Born in Kumbakonam in Tamil Nadu on August 7, 1925 to Dr M K Sambasivan and Parvati Thangammai, Swaminathan played a significant role in changing the trajectory of the agriculture sector when farmers were dependent on archaic farming techniques.
He began his research career with cytogenetic studies in potato in 1949 at the Agricultural University, Wageningen, the Netherlands, and later at Cambridge University, where he obtained his Ph D in Genetics in 1952, according to an article in Current Science (Living legends in Indian science).
"Impressed with his brilliance and highly noteworthy contributions to the cytogenetics and breeding of potato, MS was appointed in the Central Rice Research Institute (CRRI-Cuttack) and assigned to work in the indica–japonica rice hybridisation programme. The idea was to develop fertilizer-responsive varieties of rice suitable for the rice growing tracts in India. In later years, he would reminisce that the indica-japonica hybridisation programme at CRRI was indeed the early harbinger of the Green Revolution movement in India. The work resulted in varieties like ADT27, RASI, cultivated in Tamil Nadu."
Further, the article said: "The question was how to increase agricultural productivity and production
especially of our staple foodgrains (wheat and rice)."
MS had written that the seeds of green revolution were first sown in the fields of CRRI through the indica–japonica rice crosses, and decided that the plant type should be tailored to be functionally responsive to external application of fertilizers.
The height of plants should be reduced without reducing the length of grain-bearing panicles. "This is what he strived to achieve by pursuing interspecific hybridization, induced radiation and chemical mutagenesis and
use of plant growth regulators."
A genius, he is undoubtedly among the most influential scientists of the 20th century.
Swaminathan's research that began as a plant geneticist addressed the issue of food insecurity, helped small farmers increase their income by enhancing productivity
Eventually, a nation that once depended on American wheat to feed its people in the 1960s was transformed into a foodgrain surplus nation.
In 1988, he founded the MS Swaminathan Research Foundation (MSSRF) a not-for-profit trust with proceeds from the first World Food Prize he received in 1987. It is dedicated to "accelerate use of modern science for sustainable agricultural and rural development."
He handled many official roles including that of the chairman of the National Commission on Farmers, and President of the Pugwash Conferences on Science and World Affairs.
He had held a string of positions including that of Director of the Indian Agricultural Research Institute (1961-72) and Director General of Indian Council of Agricultural Research and Secretary to the Government of India, Department of Agricultural Research and Education (1972-79).
He was awarded the World Food Prize for developing and spearheading the introduction of high-yielding wheat and rice varieties in India during the 1960s when that country faced the prospect of widespread famine.
According to the World Food Prize Foundation, wheat production doubled in just a few years, making the country self-sufficient and saving millions from extreme food deprivation.
He has received 84 honorary doctorate degrees from universities around the world. He is a Fellow of many of the leading scientific academies including the Royal Society of London and the U S National Academy of Sciences.
He was a former Rajya Sabha member (2007-13). After completing a double bachelors, masters, and Ph.D in Cytogenetics, he spent two decades in research and administrative positions at agriculture institutes.
Read Dr M S Swaminathan's interviews to Rediff.com over the years:
'We are in an economic crisis'
'What we need is Evergreen Revolution'
'Mangroves reduce tidal waves'