'The spread of barbarity in Muzaffarnagar's villages makes administrative complicity so very evident that your government is rightly alleged to be imitating what the Modi-led administration did in Gujarat in 2002,' Mohammad Sajjad tells UP Minister Azam Khan.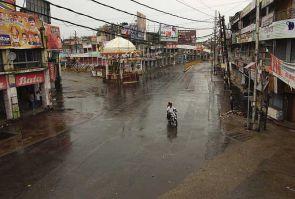 Mr Azam Khan
Minister, In-charge, Muzaffarnagar
Government of Uttar Pradesh
Sir,
Being a concerned citizen, it may not be out of place to expect from you a few things pertaining to the enormous man-made tragedy of mayhem and bloodshed in Shamli, Muzaffarnagar, Baghpat, Meerut…
By now it is abundantly clear even to a naive person that what is happening in the above-mentioned districts is absolutely motivated by desperate vote-grabbing politics.
The police complicity is more than obvious and the government's studied inaction is equally evident.
What is so very distressing is that rather than waking up the administration or doing the needful in the capacity of minister, your response is like roothi huyee dulhan (bride) of the rural lower middle class.
This is certainly not the kind of politics one is trained at AMU (Aligarh Muslim University), your alma mater; nor is it the kind of politics a samajwadi would be expected to practice, regardless of the dilution, mutation, and transformation brought about in that egalitarian ideology.
For what you are doing is hardly politics. If at all it is politics, it is nothing but the politics of self-destruction, where you appear to destroy not only the nation, but also your own political career for good.
You were so very prompt in justifying Durga Nagpal's unjustifiable suspension for her crackdown on the sand mafia and had given a bizarre spin whereby a wanton, officially sponsored, communal polarization was paraded as a step towards pre-empting any such polarization.
If it was an attempt at appeasing sections of Muslims, you have failed miserably as no sane Muslim is prepared to endorse the construction of a mosque on government land without proper prior permission from the government.
Consequently, except motivated political workers, no common voters could be convinced by the arguments put forward by your government/party. Your nominee for the forthcoming Lok Sabha elections from that constituency is quite unlikely to get Muslim votes from the constituency.
There was enough intelligence inputs about the impending danger of communal violence across Uttar Pradesh. Yet intermittent incidents of eve-teasing and retributive eve-teasings, and lynchings, leading to deaths in both warring communities not far away from the police posts.
Stock-piling of illegal arms and incendiary communal gatherings (mahapanchayats), kept spiraling into the most horrific violence against humanity.
The spread of this barbarity in the villages have made things even worse. It makes administrative complicity and inaction so very evident that your government is rightly alleged to be imitating what the Narendra Modi-led administration did in Gujarat in 2002.
True, this violence may have created fissures between the Jats and Muslims, and it may have an adverse impact on the Rashtriya Lok Dal's electoral prospects, and the Hindutva consolidation may be beneficial to the Bharatiya Janata Party, but what will happen to the Samajwadi Party whose government is seen to be culpable in the mayhem?
Earlier, your party suffered loss of Muslim support when it was perceived to be engaged in underhand dealings with the BJP in 1999, as also with Kalyan Singh in 2007. L K Advani's autobiography alludes to that effect. Your netaji Mulayam Singh Yadav's two-hour meeting with the Vishwa Hindu Parishad's Ashok Singhal is being interpreted in so many ways, more so after this violence in Muzaffarnagar.
My dear Azambhai, you were so very efficient in getting arrested a Dalit writer in your own home constituency for a mere post on Facebook, but you are so inefficient and helpless in getting arrested the instigators of the Muzaffarnagar riots.
Don't the massacres prick your conscience? How can you be so callous?
Having represented Rampur for so many years almost continuously, its people are yet to move upward in education, employment, healthcare etc.
Large number of patients from Rampur rush to AMU's JN Medical College 150 kilometres away for treatment. Neither the colonial Nawab of Rampur was, nor the neo-nawab that you are often referred to by your critics, have been able to establish an adequately provisioned medical college hospital in Rampur.
Aligarh knows and remembers you as a passionate orator in Hindustani which contributed in raising you as a political leader. Do you think mere oratory will win you back your voters whose kith and kin have been killed on such a large scale while your administration remained either complicit in the killings or showed willful inaction and thereby encouraging the killers?
The people expect you to promptly start befitting action against the rioters by mobilising your administration to nab the culprits, collect the evidence to produce in the court which could punish them. Many such killers in Gujarat are facing trial and punishment.
If at all even an iota of conscience is really left in you, you should embark on this mission of restoring the belief of the people in the criminal justice system.
Simultaneously rehabilitating the displaced ones who number in several thousands and which include Dalits (both Hindus and Muslims), other Muslims, Jats…
This is probably the only way you can save your image as also your political career which has sunken deep and bleak.
Would you also ensure the nation that 'minority' politics moves beyond the logic of security and stakes its claim in national development through educational and economic upliftment and thereby strengthens Indian democracy?
And you need not be reminded that no words and deeds of yours should smack of prejudice.
The victim is humanity, not their ascribed caste-community identities.
Mohammad Sajjad
Assistant Professor, Centre of Advanced Study in History, AMU.
Image: A man rides his motorbike on a deserted street during curfew in Muzaffarnagar.
Photographs: Stringer/Reuters
ALSO READ: The rise of non-saffron Modi in Indian politics
Target: Ajit Singh's vote-bank. Result: Muzaffarnagar riots
Exclusive! Warned home ministry about tensions in UP: Rahman Khan