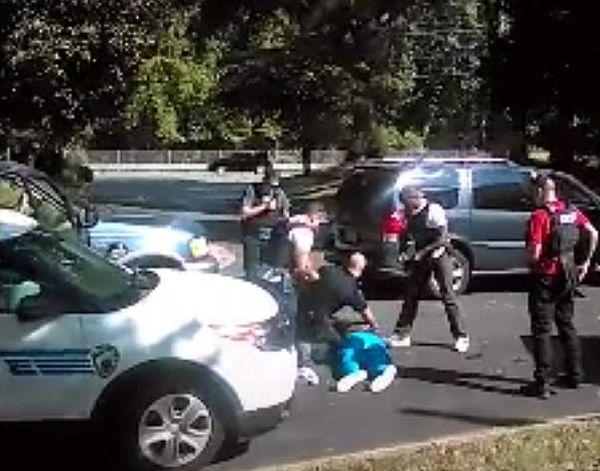 The wife of the African-American man whose death has triggered days of unrest in Charlotte, North Carolina, has released video footage of the moments before and after her husband was shot by police.
The footage was the first glimpse of what happened before and after a shooting that has inflamed the city and prompted intense, sometimes violent protests over the past three days. The recording does not include a view of the shooting itself, which occurred Tuesday afternoon as Keith ¬Lamont Scott, a 43-year-old black man, was sitting in his parked vehicle outside his apartment.
In the footage, Rakeyia Scott tells husband Keith Scott to get out of his car as Charlotte police surround him.
Officers can be heard urging him to "drop the gun" but his wife is heard telling them he is unarmed.
"Don't shoot him," she says. "Don't shoot him. He has no weapon. He has no weapon. Don't shoot him," the video shows Rakeyia telling the police.
She then urges her husband to come out of the car and repeatedly says, "Don't you do it," until gunshots are heard. At this point, the camera is facing the ground, and she becomes increasingly upset, shouting profanities as she hurries closer to the scene.
"Did you shoot him? He better not f***ing be dead," she yells while moving along the tree-lined street.
"These are the police officers that shot my husband, and he better live. He better live, because he didn't do nothing to them."
The victim's family, along with many in Charlotte, dispute the police assertion that Scott was armed with a handgun. His family says he was holding a book.
No gun is visible in the video, which shows Scott stepping backward when he was shot, one of the family lawyers said.
Charlotte has been rocked by three nights of violence-marred protests in the wake of the shooting, prompting the Governor to declare a state of emergency.
Protesters defied a curfew overnight, marching through the streets amid a heavy presence of police, National Guard troops and highway police officers.