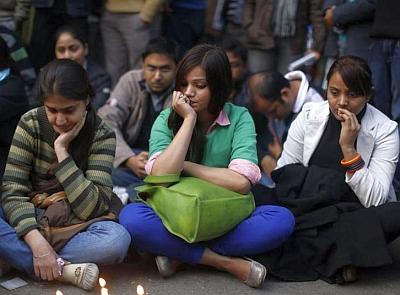 Goa Minister Dipak Dhavalikar's wife Lata has waded into controversy after she asked parents not to send their children to convent schools even as she urged women to desist from aping western culture, saying it has led to rise in incidents of rape.
Lata, who is a functionary of controversial right wing organization Sanatan Saunstha, was addressing a convention in Margao on Sunday, when she made this statement.
"Hindu men, while leaving from home, should sport a tilak, while women should use kumkum. Always celebrate Gudi Padwa as the Hindu New Year and not January 1. Don't send your children to convent school. Say 'namaskar' instead of 'hello' when answering a phone call," she said.
"It's time we took pride in our rich ancient Indian culture. Now it has become trendy among Indian women not to wear kumkum on forehead; wearing tight and revealing clothes, trimming hair and sporting weird hairdos.
"Incidents of rape are on the rise, largely owing to the fact that women have adopted western culture," Lata felt.

When contacted, her husband Dipak Dhavalikar refused to comment.
"I don't know about any such statement by her. I will get back to you," he said.
Dipak Dhavalikar is the state factories and broilers minister, while Sudin holds the transport and public works department portfolio in the Goa BJP government.
Both brothers are legislators of Maharashtrawadi Gomantak Party which have supported the Laxmikant Parsekar-led state government.
Last year, Lata's brother-in-law and minister Sudin Dhavalikar had to face flak when he demanded a ban on bikinis claiming that it was against Indian culture and led to rapes.
Sudin had later withdrawn his comments that provoked outrage in the state whose beaches and pubs swarm with tourists, including lakhs of foreigners.
Also, Dipak sparked a row when while speaking in the Goa assembly on a motion congratulating Narendra Modi on BJP's electoral victory, he had said that he was confident that the PM would develop India into a Hindu nation.