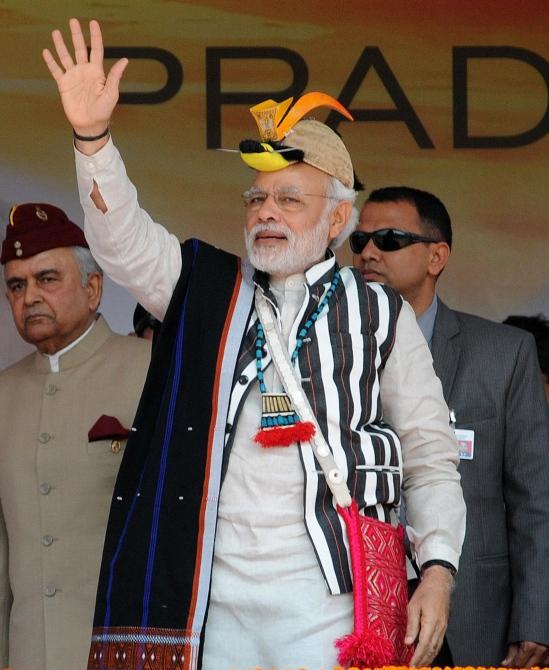 Prime Minister Narendra Modi addresses a gathering in Itanagar in a traditional hornbill hat.
Prime Minister Narendra Modi on Friday said Arunachal Pradesh is the only state in the country where people greet each other with 'Jai Hind'.
"The tradition followed by people here is an inspiration for the entire country," the prime minister said complimenting the people for their patriotic nature and 'zealously guarding' the easternmost frontier of the country.
Modi, who was addressing the 29th Statehood Day celebration at IndiraGandhiPark here, was clad in traditional Nyishi attire of Byopa (head gear), Pomo (Jacket) and Zilang (Apatani shawl).
He exhorted the people to keep the tradition alive.
"On Thursday, I was in Rajasthan, the westernmost part of the country and today I am in the eastern-most state...," Modi said referring to India's unity amid rich diversity.
Wishing the citizens of the state on the occasion, the prime minister said, "The people will witness more progress of the state in the next five years what you have not witnessed in the last 28 years."
"I fell proud to inform you that yesterday I gave away the 'Krishi Karman Commendation Award' to Arunachal for record foodgrain production, which is encouraging for the farming community," Modi said.
Praising the pristine cool environment of the state, the prime minister said the people here worshipped nature and never tolerated any (human) exploitation for which Arunachal still remained 'a virgin place'.
"I salute them...," he said adding, India would shine only if Arunachal grew. The prime minister also pledged to create opportunities for the poor section saying that "Delhi is ready to serve you every moment."