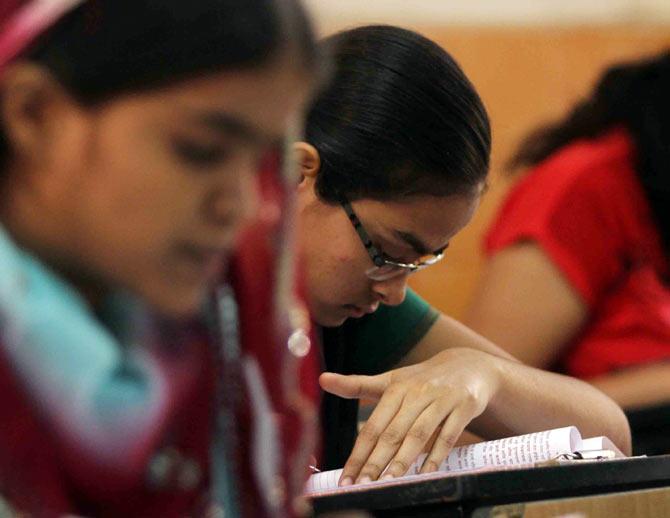 Moved by the tragic case of a 17-year-old IIT aspirant who committed suicide a day after clearing her exam, the Kota district collector has written an emotional letter to parents of over 1.5 lakh students in coaching institutes, asking them not to force their expectations on the children.
The five-page letter by Collector Ravi Kumar Surpur has been dispatched to the coaching institutes in the city and will be forwarded to the parents after translation into Hindi and other regional languages.
Referring to suicides by young students, the district collector wrote that for all of them death was a much peaceful and effortless action than going through the dilemma of artificially doing what their parents wanted them to do.
"Your solacing words of comfort, asking them to give their best and forget the results could have been the blade of grass" that would have saved precious lives, he wrote, adding, instead, what they got were threats to perform even better.
"Should parents go the children's immature way? Not necessarily."
Surpur has made an emotional appeal in the letter, asking parents "not to force their expectations and dreams on their children" and "let them do what they want and are able to do".
Besides, the district administration has also decided to seek feedback on stress level of students in various institutes to check for signs of anxiety among them.
The initiative came after the recent suicide by IIT-JEE aspirant Kriti who took the extreme step on April 28 despite having cleared IIT-JEE mains in the result declared a day before her suicide.
At least 19 aspirants ended their lives in 2015 while five students have taken the extreme step in 2016.
Surpur also mentioned a recent suicide letter by a young girl, written in perfect grammar and in beautiful running handwriting, where she thanked her mother for giving up her career for raising the children.
In another suicide note, a girl requested her parents to allow her younger sister to do what she likes.
The district collector also asked the parents and children to look beyond engineering and medicine for their career.
Surpur had also written a letter to students and parents in January this year telling them that life is beautiful and clearing an exam is not everything.
Meanwhile, the district administration held a meeting with the officials of coaching institutes and hostel owners on Saturday regarding the implementation of its guidelines issued a few months ago for checking stress among the coaching students.
Image used for representational purpose only.
© Copyright 2023 PTI. All rights reserved. Republication or redistribution of PTI content, including by framing or similar means, is expressly prohibited without the prior written consent.