United States President Donald Trump issued another warning to North Korea on Friday by saying that military solutions against the nuclear-armed regime were "locked and loaded" for use if Pyongyang acted "unwisely".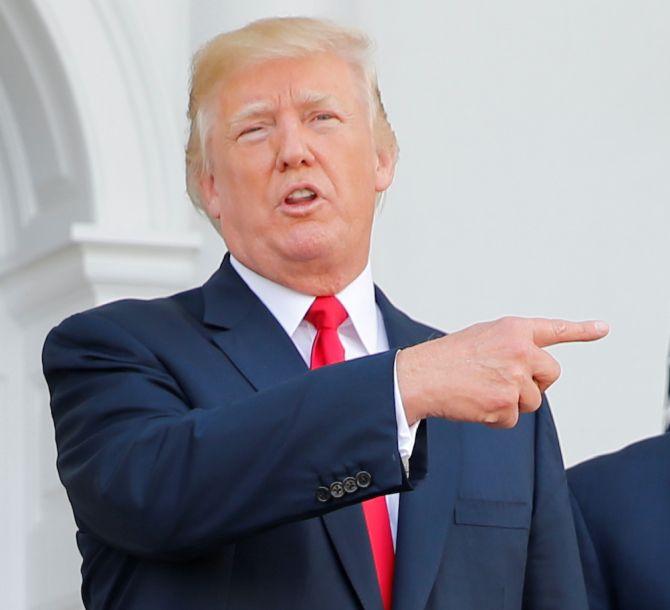 He retweeted a US Pacific Command tweet of pictures showing US Air Force Bomber B-1B Lancers.
"Military solutions are now fully in place, locked and loaded, should North Korea act unwisely. Hopefully (North Korean leader) Kim Jong Un will find another path!" Trump told his 35.5 million followers on Twitter.
"USAF B-1B Lancer bombers on Guam stand ready to fulfil USFK's fight tonight mission if called upon to do so," the Pacific Command said in a tweet.
On Thursday, Trump issued fresh warnings to North Korea, saying things will happen to the country like it "never thought possible" if Pyongyang thinks about attacking America or any of its allies.
Referring to his Tuesday's statement that North Korean threat to the US will be met with "fire and fury", he said the message wasn't tough enough and it's time to act for the people of America.
"It's the first time they've heard it like they heard it. Frankly, the people that were questioning that statement, was it too tough, maybe it wasn't tough enough.
"They've been doing this to our country for a long time, for many years, and it's about time that somebody stuck up for the people of this country and for the people of other countries. So, if anything, maybe that statement wasn't tough enough," Trump told reporters at his summer vacation home at Bedminster in New Jersey on Thursday.
The president was responding to a question on Tuesday's remarks, which has attracted criticism from traditional foreign policy experts and Democratic lawmakers.
"We are backed 100 per cent by our military. We are backed by everybody… We're backed by many other leaders. I noticed that many senators and others, today came out very much in favour of what I said. But, if anything, that statement may not be tough enough.
"The people of this country should be very comfortable, and I will tell you this, if North Korea does anything in terms of even thinking about attack on anybody that we love or we represent or our allies or us, they can be very, very nervous," Trump said.
"They should be very nervous, because things will happen to them like they never thought possible. He (Kim) has been pushing the world around for a long time. I have great respect for what China and what Russia did, and we got a 15-to-nothing vote," he added.
Trump also praised his UN Ambassador, Indian-American Nikki Haley on being successful in getting the Security Council sanctions on the Asian country.
Talking about China, Trump said the communist nation can do a lot more in helping the US handle the threat from the Kim Jong-Un regime.
IMAGE: US President Donald Trump speaks to reporters at Trump's golf estate in Bedminster, New Jersey. Photograph: Jonathan Ernst/Reuters