Republican presidential nominee Donald Trump on Monday sought to give a boost to his flagging campaign by unveiling his economic policy which he claimed would spur faster growth and benefit every American. Trump offered major tax sops across the board.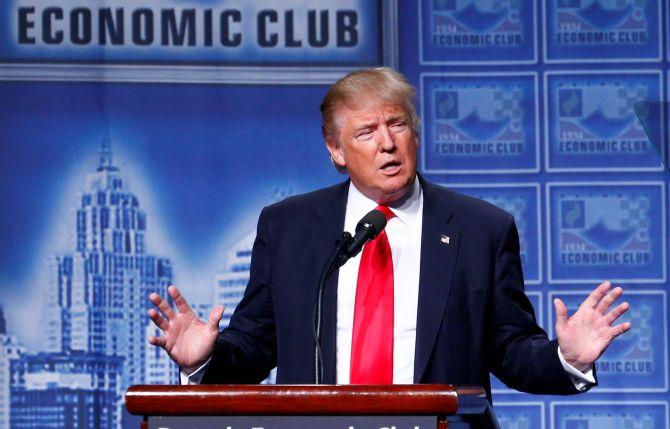 IMAGE: Republican US presidential nominee Donald Trump speaks to the Detroit Economic Club at the Cobo Center in Detroit, Michigan. Photograph: Eric Thayer/Reuters
"Today we begin a great national conversation about economic renewal for America -- it's a conversation about how to Make America Great Again for everyone, and especially those who have the very least," Trump said as he unveiled his economic policies in Detroit.
"The other party has reached backwards into the past to choose a nominee from yesterday -- who offers only the rhetoric of yesterday, and the policies of yesterday. We are going to look boldly into the future, and with new leadership -- and new solutions we will get new results," he said.
Announcing his tax reforms Trump said his policies would benefit working families while ensuring the wealthy pay their fair share, dramatically cut taxes for everyone and streamline deductions, presenting the biggest tax reform since Reagan.
He announced to exclude childcare expenses from taxation, limit taxation of business income to 15 per cent for every business, from freelancers to the Fortune 500; make corporate tax globally competitive and the United States the most attractive place to invest in the world and end the death tax.
Reiterating that he would renegotiate North American Free Trade Agreement, or walk away if the US has to and stop the Trans Pacific Partnership Agreement, Trump said he would bring trade relief cases to the World Trade Organization, label China a currency manipulator, apply tariffs and duties to countries that cheat.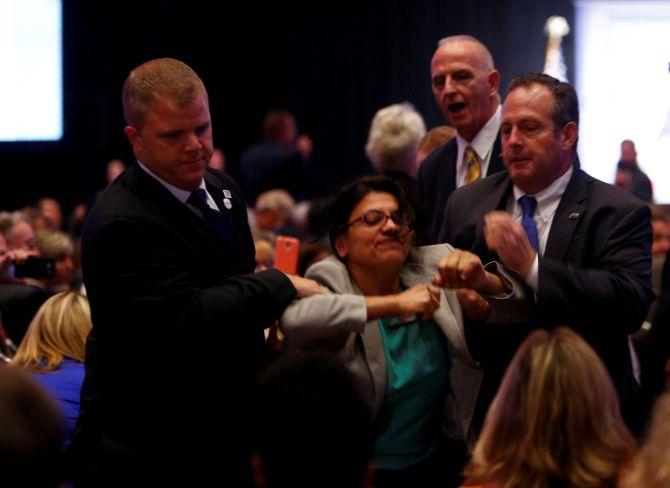 IMAGE: A protester is led out as Trump speaks to the Detroit Economic Club. Photograph: Eric Thayer/Reuters
At least a dozen women protested Trump's speech by jumping up and shouting in a coordinated effort to disrupt the Republican presidential nominee's remarks.
One at a time, women seated throughout the audience stood up and yelled "Mr Trump," but their continued shouts were quickly drowned out by boos as security led them from the room. An organization called the Michigan People's Campaign is claiming responsibility.
It was hard to hear the women, but the group says they were yelling at Trump about jobs and his comments on women.
"It's all very well planned out," Trump said after security had led several protesters out.
One man also stood up toward the end of the event and yelled that Trump has "tiny hands." That's apparently a reference to a sexually tinged comment by primary rival Marco Rubio, the Florida senator.
Protesters occasionally disrupt Trump's larger rallies, where members of the public can enter. But this is the first time he's faced such sustained resistance at a policy speech delivered to a private group.
Trump said he would issue an executive order to impose a regulatory moratorium on new agency regulations and require each federal agency to prepare a list of all of the regulations they impose on American business, and rank them from most critical to health and safety to least critical.
Trump announced to rescind all the "job-destroying" executive actions of President Barack Obama including the Climate Action Plan, save the coal industry and other industries threatened by Hillary Clinton's "extremist" agenda.
He said he would cancel the Paris Climate Agreement and stop payments of US tax dollars to UN global warming schemes.
He announced to lift restrictions on American energy, which will increase GDP annually by $100 billion, create 500,000 new jobs and increase wages by over $30 billion over the next seven years.
"We are going to look boldly into the future. We will build the next generation of roads, bridges, railways, tunnels, sea ports and airports that our country deserves. American cars will travel the roads, American planes will connect our cities, and American ships will patrol the seas," he said.
"American steel will send new skyscrapers soaring. We will put new American metal into the spine of this nation. It will be American hands that rebuild this country, and it will be American energy -- mined from American sources -- that powers this country. It will be American workers who are hired to do the job. Americanism, not globalism, will be our new credo," he said.
© Copyright 2021 PTI. All rights reserved. Republication or redistribution of PTI content, including by framing or similar means, is expressly prohibited without the prior written consent.