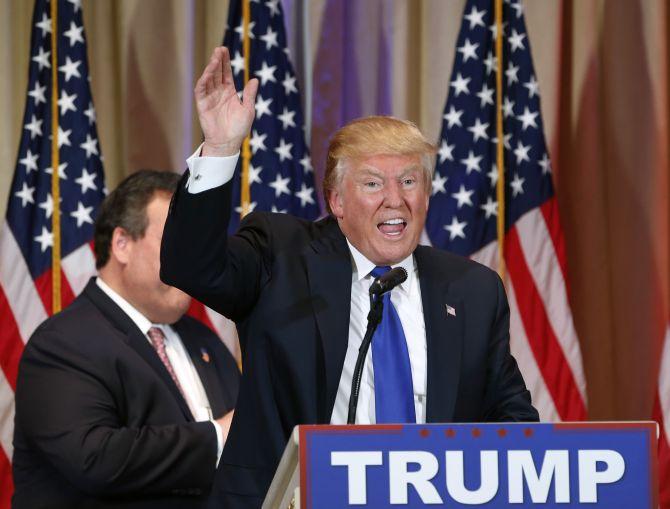 Republican presidential candidate Donald Trump has said that the era of nation building should come to an end, as he laid out a foreign policy approach to deal with the Islamic State militant group and radical Islam.
"If I become president, the era of nation-building will be brought to a very swift and decisive end. Our new approach -- which must be shared by both parties in America, by our allies overseas and by our friends in the Middle East -- must be to halt the spread of radical Islam," Trump said in a major policy speech on defeating radical Islam in Ohio.
"All actions should be oriented around this goal and any country which shares this goal will be our ally. Some don't share this goal. We cannot always choose our friends but we can never fail to recognise our enemies," he said.
"As president, I will call for an international conference focused on this goal. We will work side by side with our friends in the Middle East, including our greatest ally Israel. We will partner with King Abdullah of Jordan and the president of Egypt, President Sisi, and all others who recognise this ideology of death that must be extinguished," Trump said.
A Trump Administration, he said, will also work very closely with NATO on this new mission.
"I had previously said that NATO was obsolete because it failed to deal adequately with terrorism. Since my comments, they have changed their policy and now have a new division focused on terror threats. Very good. Very, very good," he said.
"I also believe that we could find common ground with Russia in a fight against the Islamic State. Wouldn't that be a good thing? Wouldn't that be a good thing? They, too, have much at stake in the outcome in Syria, and have had their own battles with Islamic terrorism just as bad as ours. They have a big, big problem in Russia with IS," he said.
Trump said his administration will aggressively pursue joint and coalition military operations to crush and destroy IS.
International cooperation to cut off their funding, expanded intelligence sharing, and cyber warfare to disrupt and disable their propaganda and recruiting. Their recruiting is taking place right now, and they're setting records. It's got to be stopped, he said.
"We cannot allow the internet to be used as a recruiting tool and for other purposes by our enemy. We must shut down their access to this form of communication, and we must do it immediately," he said.
Trump alleged that the rise of IS is the direct result of policy decisions made by US President Barack Obama and Hillary Clinton, his Democratic rival who served as the Secretary of State in his first term.
"Let's look back at the Middle East at the very beginning of 2009 before the Obama-Clinton administration took over. Libya was stable. Syria was under control. Egypt was ruled by a secular president and an ally of the US," Trump said.
"Iraq was experiencing a reduction in violence. The group that would become what we now call IS was close to being extinguished. Iran was being choked off by economic sanctions. Fast forward to today. What we have -- and think of this -- and the decisions made by the Obama/Clinton group have been absolutely disastrous," he said.
"In Egypt, terrorists have gained a foothold in the Sinai desert near the Suez Canal, one of the most essential waterways of the world. Iraq is in chaos. And IS is on the loose. IS has spread across the Middle East and into the West. In 2014, ISIS was operating in seven nations. They were in seven nations. Terrible, but that's what it was," Trump said.
"Today they're fully operational in 18 countries with aspiring branches in six more for a total of 24. And many believe that number is actually 28 to 30 countries. They don't even know. The situation is likely worse than the public has any idea," he said.
"A new congressional report reveals that the administration has downplayed the growth of IS with 40 per cent of analysts saying they had experience efforts to manipulate their findings in trying to make it look much better than it is. It's bad," he added.