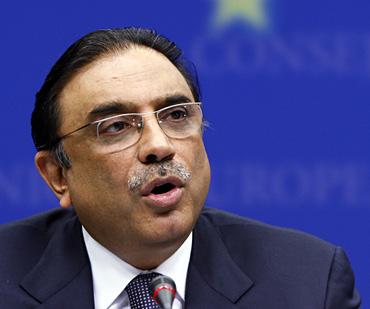 A Pakistan court on Monday asked President Asif Ali Zardari not to take part in political activities till the next hearing on March 29 of a petition challenging his holding of the post of head of the Pakistan Peoples Party.
"The President should follow the court's order by not taking part in political activities," Lahore high court Chief Justice Umar Atta Bandial observed while hearing the petition against Zardari. Bandial is heading a five-judge bench that is hearing the case
He observed that after a recent decision given by the high court, Zardari had avoided political activities in the presidency but was continuing with them at Bilawal House, his private residence in Lahore.
"He (President) should show respect to the court and not indulge in political activities till the next hearing on March 29," Bandial remarked. Wasim Sajjad, the counsel for the federal government, could not appear in court today to present arguments as he was busy with another case in the Supreme Court.
"We will hear the case on March 30, the court's holiday, in case Mr Sajjad does not appear on March 29 with the same excuse," Bandial said.
Additional Advocate General Abdul Hai Gilani informed the court that the president was not involved in political activities in Bilawal House and reports in this regard in the media were not accurate."We had issued a clarification but the media did not publish and broadcast it," he said.
Justice Mansoor Ali Shah, a member of the bench, asked what happened during the President's meeting with PPP leaders at Bilawal House.
"Literature and poetry are read during the president's meeting with PPP leaders," Shah asked. The government's counsel had earlier told the court that Zardari was co-chairman of the PPP, which was not a political party but a 'private organisation'.
The PPP is registered with the election commission as the PPP-Parliamentarians. Sadique Azhar, the advocate for the petitioner, informed the bench that the office-bearers of both the PPP and the Pakistan People's Party-Parliamentarians were the same.
Bandial observed the PPP and PPPP were a 'image mirror' of one another. The petitioner has sought contempt proceedings against Zardari for not acting on Lahore high court order that suggested he should quit his political office.