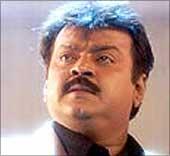 In an apparent bid to stem any further erosion in his party against the backdrop of four of his members of Legislative Assembly meeting Chief Minister Jayalalithaa, actor-politician and Opposition Leader Vijayakant on Monday sought a meeting with her to discuss constituency-related issues.
Vijayakant and four of his party MLAs have given a letter to Speaker V Dhanapal requesting him to arrange a meeting with the Chief Minister, Desiya Murpokku Dravida Kazhagam whip in the Tamil Nadu assembly, J Chandrakumar told mediapersons in Chennai.
The move is being seen as an attempt by Vijayakant to keep his flock together even as speculation is rife that more of his party MLAs could call on the chief minister, sparking
rumours that they could switch loyalty to the ruling All India Anna Dravida Munetra Kazhagam.
It is not much a common sight in state political circles where MLAs of a rival party call on a chief minister. Jayalalithaa and Vijayakant were earlier this year involved in a direct face-off on the floor of the assembly, prompting the AIADMK supremo to regret her party's tie-up with DMDK for last year's Assembly polls.
Meanwhile, the four MLAs -- K Tamil Azhagan, S Sunderarajan, C Michael Rayappan and Arun Pandian -- who had called on the chief minister last week, were given separate seating in the assembly when it met on Monday.