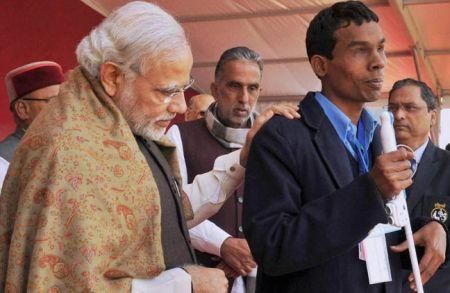 Divyangs, a term coined by Prime Minister Narendra Modi for the differently abled, are being imparted special training for the mega yoga event on June 21 in Chandigarh, which will see as many as 150 of them take part.
These special participants comprise people who are intellectually disabled, visually challenged, deaf and mute. There are also 18 former army soldiers who are wheelchair bound.
All these participants are enrolled with Government Rehabilitation Institute for Intellectual Disabilities, Chandigarh, where they are undergoing special training for the past one month.
Manisha Verma, a yoga therapist at GRIID, says the participants are looking forward to the event with a lot of enthusiasm. "These students are very excited about the event and they want to give their best performance. They also talk about getting a selfie with the prime minister," Manisha Verma said.
Training the specially abled in yoga requires immense patience and creativity, according to their therapist. "We need to show a lot of patience and love. Our teaching method for the intellectually disabled needs to be playful. For instance, if I am teaching them Bhadrasana (Gracious pose) then I will tell them to turn into a butterfly, if I am teaching them Vrikshasana (Tree pose) then I ask them to become a tree. So, we need to weave a story around the asana in order to develop their interest in the activity."
Similarly, verbal instructions are given to the blind. In case, of the hearing impaired and speech impaired we have our yoga instructors accompanied by a special educator who can communicate with the participants through sign language.
A total of 190 differently abled volunteers will be taking part during the dress rehearsal from where 150 will be shortlisted for the final event, according to Verma.
Prime Minister Modi will attend the International Yoga Day celebrations in Chandigarh.
In the national capital, too, there will be 20 differently abled participants, who will give a special performance during the opening ceremony on June 21 at Connaught Place. This will include 10 performers from a group called "Miracle on Wheels", which has performed across the world and is the only one in the world to perform yoga on wheelchair professionally, according to its director Syed S Pasha. The performers will demonstrate some really difficult asanas like Shirshasana or headstand.