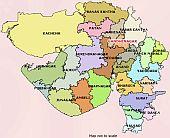 On the last day of the filing of nominations for phase I of Gujarat elections, major political parties, including the ruling BJP and opposition Congress continued to face dissidence from the disenchanted party members, who either decided to switch loyalties or contest as independents.
For the Congress, perhaps the biggest revolt came in Junagadh. The party is at the helm of affairs at the Junagadh Municipal Corporation and four-time deputy mayor Girish Kotecha, who was denied a Congress ticket, on Saturday filed his nomination papers as an independent candidate.
The Congress has fielded Bhikhabhai Joshi as its contestant from Junagadh. Kotecha and 24 municipal councillors (his supporters) in Junagadh Municipal Corporation have tendered their resignations.
Sitting BJP MLA from Savarkundla in Amreli district Kalubhai Virani, who was denied the ticket by the party, on Saturday filed his nomination paper as an independent candidate from Savarkundla.

"I have undertaken considerable work in my constituency. I am confident that people will vote me on the basis of my work," Virani said.
Four BJP municipal councillors tendered their resignations to protest against the party's decision to allot ticket to Sangita Patil for the Limbayat constituency.
"Instead of giving ticket to a local leader, the party has selected Sangita Patil who is from Udhna, not from Limbayat," a dissenting leader said.
Meanwhile, NCP state women wing president Ratna Vora also resigned from the post citing failure to reach an agreement with the Congress over seat-sharing arrangements for the Bapunagar assembly constituency here. Bapunagar assembly constituency in Ahmedabad will go to polls in the second phase on December 17.
"I have resigned from the post of state president of NCP's women's wing, NMC," Ratnaben Vora told PTI.

"I am yet to decide whether I will contest as an independent or on any other party's ticket. But, I have full support of my party workers, Dalits and Muslims in my area," she said.
NCP has also alleged that a Congress candidate has filed his nomination papers from Limbayat in Surat despite seat-sharing agreement with the party for the seat. NCP has fielded Rajdeep Jamir Khan from Limbayat.

Congress's Suresh Sonwane has filed his nomination froms from the Limbayat seat with the mandate of the party.

On Friday, chairman of Agriculture Produce Marketing Committee at Sanand, Kanbha Gohil, had tendered his resignation from the BJP after he was denied ticket for the Sanand assembly constituency.


"The party has ignored the aspirations of my community and imposed an outsider. I will continue working for the community but not for the party," Gohil said.
Similarly, chairperson of Ahmedabad District Panchayat Health Committee Kantaben Thakor and her husband Kunvarji Thokor, who was president of Detroj city unit of the party resigned from their posts in protest against BJP's decision to field Pragji Patel from Viramgam constituency.


© Copyright 2021 PTI. All rights reserved. Republication or redistribution of PTI content, including by framing or similar means, is expressly prohibited without the prior written consent.