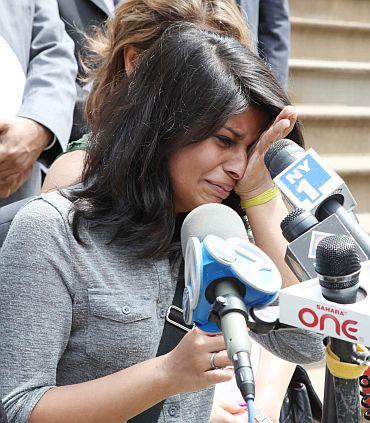 Krittika Biswas, an Indian diplomat's daughter who was wrongfully arrested on the suspicion of sending obscene emails to a teacher, does not need diplomatic immunity, said her lawyer on Friday.
Ravi Batra said that the Vienna convention on consular relations required the New York city to inform the consulate of a signatory country if a citizen of that country had been arrested. "The local authorities must make that communication, but nothing like that was done," Batra said.
US state department's spokesperson, Mark Toner said on Thursday that family members of diplomats do carry diplomatic passports, but diplomatic immunity does not apply to them.
Article 36 of the Vienna convention on consular affairs reads, "the competent authorities of the receiving state shall, without delay, inform the consular post of the sending state if, within its consular district, a national of that state is arrested or committed to prison or to custody pending trial or is detained in any other manner."
Biswas, 18, has sued the New York city government for $1.5 million for what she claims was a wrongful arrest on the suspicion of sending obscene emails to her teacher in Queens' John Browne high school.
Biswas claims that she was handcuffed and led out of school on February 8. She also said that she was not allowed to use the bathroom for a long time, she could not drink water from a cooler because it had vomit on it, and she spent the night feeling cold because the blanket was too dirty to use. Biswas is the daughter of the vice-consul at the Indian consulate in Manhattan.
Photograph: Krittika Biswas breaks down when speaking to the media in New York City on Tuesday. Image: SnapsIndia