Indian-American Congressman Dr Amerish Bera feels that an apology will help India and the United States work through any misunderstandings. Rediff.com's Aziz Haniffa reports from Washington, DC.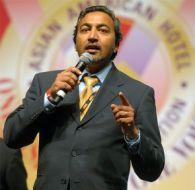 United States Congressman Dr Amerish 'Ami' Bera, the only Indian-American lawmaker in the US Congress, described the arrest of Indian diplomat Devyani Khobragade as "unfortunate" and said, "If there are apologies that should be made, we should make these apologies."
Dr Khobragade, India's Deputy Consul General in New York, was arrested last week, handcuffed and strip-searched before being released on a $250,000 bond after pleading not guilty to visa fraud charges.
In an interview to Rediff.com, Dr Bera, the only Indian-American physician ever elected to the US House of Representatives, said "It is unfortunate because there has been so much progress and this has been such a good year in the US-India relationship with our friendship and the countries growing ever more closer together and planning for a future together."
"I still hope that our diplomats -- at our end -- and the Indian diplomats are able to absorb this and move forward, and smoothen things over as quickly as possible, and rectify this if there was an injustice done," Dr Bera said.
He reiterated that "Our countries are very close countries, and so, we should work through this as quickly as possible."
Asked if the US should offer a formal, unqualified, apology for the way Dr Khobragade was humiliated while being arrested, particularly since she was a diplomat, Dr Bera was more circumspect, saying, "I don't know the details of what has happened, and that is probably questions for New York US Attorney, Preet (Bharara)."
"But if there were mistakes made, then obviously apologising helps us move forward and work through any misunderstandings and that's a good thing," he added.
Asked if he would take any initiative as an Indian-American lawmaker and a member of the House Foreign Affairs Committee, including the Subcommittee on Asian and Pacific Affairs that has jurisdiction over matters pertaining to South Asia to address the situation in terms of a Congressional intervention, Dr Bera said he was still "gathering information" on the situation.
Image: Dr Ami Bera. Photograph: Paresh Gandhi Rediff.com