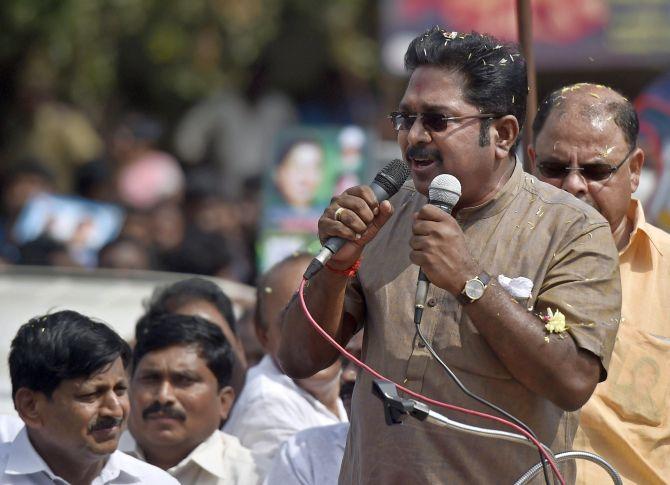 Sidelined All India Anna Dravida Munnetra Kazhagam leader TTV Dinakaran who scripted an emphatic win in the RK Nagar assembly bypoll has proved his main campaign line that he will be chosen by people to succeed 'Amma' (late chief minister Jayalalithaa), who represented the constituency twice.
The victory, against all odds, including loss of Two Leaves symbol and a slew of cases against him, is being seen as a worrying development both for AIADMK and principal opposition Dravida Munnetra Kazhagam, which finished third behind the ruling party.
After the revolt by Chief Minister K Palaniswami, Dinakaran has vowed to unseat the regime, accusing him of having betrayed the faith reposed in him by jailed party leader and his aunt V K Sasikala.
The suave Dinakaran was handpicked by Sasikala to lead the party when she went to the Parapana Agrahara Jail in Bengaluru to serve a four year jail term in a disproportionate assets case in February this year.
Dinakaran is not new to electoral politics. He was elected to the Lok Sabha in 1999 from Periyakulam and to the Rajya Sabha in 2004.
Known for his brilliant organisation skills, he was a key player in party appointments albeit from behind the screens and during parleys with allies at the time of elections.
However, his sudden emergence as party deputy general secretary slowly ruffled feathers and Palaniswami teamed up with then rival leader and now Deputy Chief Minister O Panneerselvam to form the main bloc of AIADMK which now has the Two-Leaves symbol.
In April-May last, Dinakaran went through a rough patch with the Delhi Police arresting him for allegedly trying to bribe Election Commission officials to get the 'two leaves' symbol. Among others, he also faces a FERA case.
Eighteen of his loyalist MLAs were disqualified by Tamil Nadu assembly Speaker P Dhanapal months ago and a case in this regard is pending before the Madras high court.
Post the merger of the factions led by Chief Minister K Palaniswami and now his deputy O Panneerselvam, a general council meeting of AIADMK in September had annulled the appointment of Sasikala as the party general secretary and all subsequent appointments/removals made by her, including that of Dinakaran.
Unfazed, 54-year old Dinakaran, who along with Sasikala had worked closely with Jayalalithaa for about three decades, moved on confidently and continued to meet his supporters in all the districts.
Articulate, outgoing and sociable, Dinakaran, a former MP, has been asserting that party cadres were with him and he was led by "Chinnamma Sasikala," a true successor to 'Amma'.
His appeal to vote for him was in simple, plain spoken everyday Tamil unlike the bombastic style of some leaders.
To their credit, Dinakaran and his followers were able to take the 'pressure cooker symbol' to the voters.
In about two decades, he is the first independent candidate to be elected in Tamil Nadu and that too with such a huge margin scoring higher than that of Jayalalithaa in 2016 assembly polls.
In that election, Jayalalithaa had won by a margin of 39,545 votes defeating DMK nominee Shimla Muthuchozhan. While Jayalalithaa secured 97,218 votes, the DMK candidate 57,673 received votes.
Despite the spectacular poll show, Dinakaran and his followers face the allegation of attempting to bribe the voters through ingenious ways. DMK working president MK Stalin alleged money power behind Sunday's electoral outcome.
© Copyright 2021 PTI. All rights reserved. Republication or redistribution of PTI content, including by framing or similar means, is expressly prohibited without the prior written consent.