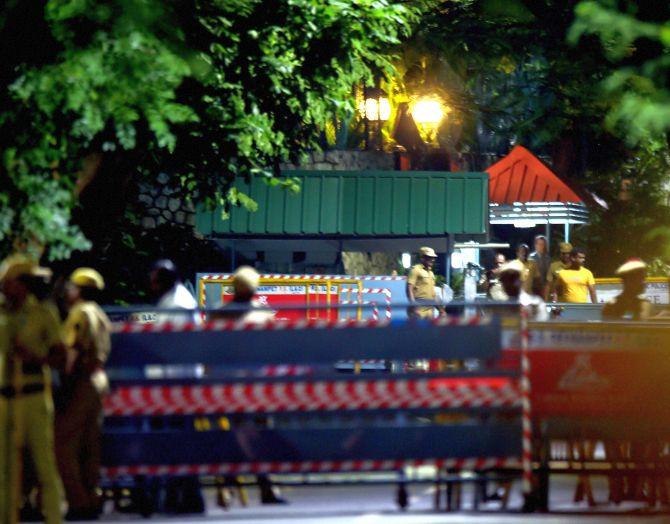 Sidelined All India Anna Dravida Munnetra Kazhagam leader T T V Dinakaran on Saturday alleged that there was a conspiracy behind the income tax searches at the residence of late chief minister J Jayalalithaa to "squeeze us out" from politics.
The Chief Minister Palaniswami camp, however, blamed the Sasikala family for the raids.
I-T sleuths conducted searches in the office block of the Poes Garden residence of Jayalalithaa, 'Veda Nilayam'.
Following inputs, a search operation was launched in the office block and a room used by jailed and deposed AIADMK leader V K Sasikala.
Dinakaran alleged that there was a conspiracy to squeeze out his family from politics and slammed his rival, Chief Minister Palaniswami, for not opposing the raids.
The Poes Garden residence of Jayalalithaa was a "sacred place" (punitha sthalam) for over 1.5 crore party workers and I-T sleuths conducting searches there had "hurt" them, he told reporters at Thoothukudi.
He pointed to the state government's announcement on turning the house into a memorial, but questioned why not even a single minister or any representative from that camp had gone there when the raid was on.
"They said the house would be made a memorial, but not one minister came to the spot. They are not voicing out their opinion against the raid due to selfish motives and out of fear," he alleged.
"Certainly, there is a political intention behind the raids... they want to finish us off, squeeze us out of politics. Those in government allowing these raids will have to reply at the appropriate time," he said.
"I believe there is a conspiracy today after Amma's death (against his family)," Dinakaran said.
State Fisheries Minister D Jayakumar also regretted that I-T raids conducted at Veda Nilayam and blamed the Sasikala family for the same.
"After Amma's (Jayalalithaa) death, those with Sasikala and Dinakaran were staying at Amma's house. The family members of these two are responsible for the raids," he said.
Jayalalithaa's niece J Deepa also slammed the Sasikala family over the I-T searches.
"This property was earned by Amma by her blood and sweat (as an actor in the) film industry. This raid is being carried out to defame Amma and was done with the cooperation of the family of Sasikala," she said.
This is why Sasikala's nephew and Jaya TV CEO, Vivek Jayaraman, was present at Veda Nilayam during the searches, she alleged.
Taxmen had on Friday searched the room of Poongundran, who served as an aide of the late chief minister, records room and other room used by Sasikala. The seizure included a laptop.
IMAGE: Security persons outside former Tamil Nadu chief minister J Jayalalithaa's residence at Poes Garden in Chennai. Photograph: R Senthil Kumar/PTI Photo