'Already, the temperature has touched 39 degrees in some parts of Gujarat and now we are in the last week of February.'
'We need to activate the heat action plan from March 1.'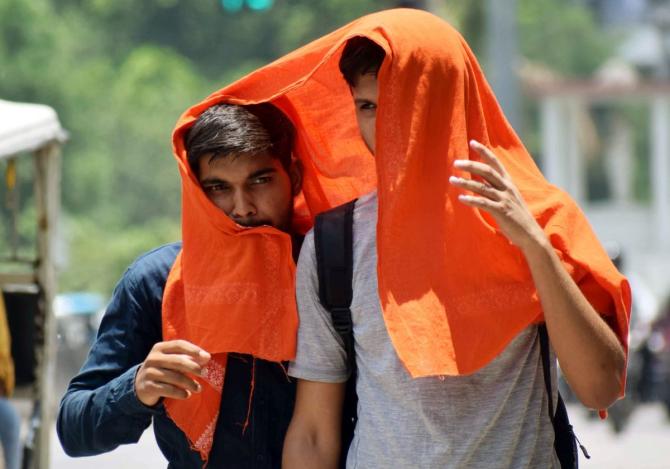 A visitor to New Delhi is often advised to visit the city in February because the weather is pleasant around that time of the year.
But it may no longer be true.
On Monday, February 20, 2023, Delhi recorded 33.6 degrees Celsius at the Safdarjung observatory -- nine degrees above normal temperature for the national capital in February.
The situation is no better in states like Rajasthan, Gujarat, Goa and Maharashtra as temperatures range between 35 and 39 degrees.
Mumbai too is no different.
The India Meteorological Department on February 18 recorded a maximum temperature of 37.9 degrees Celsius, seven degrees above normal, at Mumbai's Santacruz weather station. South Mumbai recorded a maximum temperature of 35.3 degrees Celsius, six degrees above normal.
These are signs that summer, which starts around the end of March, has already set in and the next few months will be more scorching than usual.
This is a cause for concern as India from 2000 to 2004 reported 20,000 heat related deaths annually among those over the age of 65, and the number grew to about 31,000 deaths every year between 2017 and 2021.
Syed Firdaus Ashraf/Rediff.com asked Dr Dileep Mavalankar, director, Indian Institute of Public Health, on what India needs to do to tackle the grim heat wave.
Dr Mavalankar is a pioneer behind implementing India's first heat action plan in Ahmedabad and has shown the way to the country on how to handle this crisis.
What is India's heat action plan, what does it entail, and how and when does it kick in?
We developed India's first heat action plan in Ahmedabad in 2013. There are five components to it.
The first one is early prediction (of heat wave) in which we find out what is going to happen in the next five days and what level (of temperature) it can cross.
We need to give an orange alert or red alert to be announced (on heat wave).
Second is awareness among the community on what action the people should take.
Third is preparing the health system because if people come (to hospitals) with heat stroke, what to do and how to manage them.
Fourth is long term measures on exposure to heat, like (setting up) cooling centres and keeping gardens open. Painting rooftops white in colour so that it reflects the heat.
After implementation of these four things, correlate the temperature and mortality rate. 2010 was the first year when we started collecting the data on mortality rate with heat wave.
This is the gist of the heat action plan.
Do you feel that the heat action plan should have kicked in earlier as El Nino is likely to create havoc this year in India?
In the last two years summer has been advanced in India by a month.
In 2022, the temperature had touched 40 degrees centigrade by the end of March which also affected wheat production. Early heat will lead to these things.
Normally, from the year 2013 we used to implement the heat action plan from April 1, but now it should be done from March 1.
Already, the temperature has touched 39 degrees in some parts of Gujarat and now we are in the last week of February.
Does it mean we need to move fast now?
Yes, we need to activate the heat action plan from March 1. Public awareness should start now and news must be spread in media because people have to take action (on the ground). I don't know whether the Indian Meteorological Department has started predictions for heat yet.
What kind of heat levels are you expecting this year?
IMD has to predict that. They have two types of predictions, one is long term and the other is short term.
In the long term prediction they predict three months ahead, which starts on April 1. We then have (short-term) three-week prediction on how heat is going to affect India. And we also have 5-day prediction on heat wave.
This started only after we started predicting the heat wave in Ahmedabad in 2013.
Earlier, we use to get these details from the United States of America where some university used to send us all the data. IMD did not have this prediction system and it was only after 2016 that they developed the heat prediction system.
How does public health get affected due to heat?
People die due to a heat wave. Our data showed that in 2010 in Ahmedabad, 800 more people died due to the heat wave compared to previous years.
During the peak heat wave, daily mortality in Ahmedabad was 100 deaths per day. On May 21, 2010, there were 310 deaths recorded due to heat wave. It was at its peak. The following one week 800 more people died.
Heat waves kills people on a large scale, but as we do not record all-cause mortality and analyse it, we are unable to find out how many people die due to heat wave.
Why is the data not available?
It is complicated because we have to first record all-cause mortality.
Take, for example, Mumbai, say one must record all deaths every day during a heat wave. If you do that, then you will come to know whether there is a huge jump in the number of deaths and if the answer is yes, we can investigate and analyse whether it is due to a heat wave or not.
We do give temperature every day by stating that today the temperature was normal, but what is normal temperature?
It is the temperature of today compared to the data of the last 30 years on the same day.
Similarly, you can take out mortality average of the last 30 years and compare it with today's death statistics and compare it with yesterday's death statistics. It is a simple thing, but nobody is doing this in our country.
What must the common man do to protect himself from the heat wave?
It is given under heat action plan (external link) on the NDMA Web site.
Basically, you have to reduce exposure. If there is a red alert, then you need not go out. If you go out, you need to drink a lot of water.
If there is a red alert sign and you still have to go out, then you need to take rest in 30 minutes or 1 hour and sprinkle water on yourself to cool off.
These types of simple measures are required. If you fall sick, then go to hospital immediately.
Similarly, old people have co-morbidities and they are at more risk in a heat wave.
When you started this heat action plan in India, what was the response from the government and public?
We had to convince the government and fortunately or unfortunately the government was aware in 2010 that a lot of people had died due to the heat wave as the hospitals were full. There were a lot of heat emergency patients.
The government was aware of what was happening and we worked with great health officers and different commissioners (of Ahmedabad) that time.
The government also appointed a health officer to tackle the heat wave. They understood the gravity of the situation after we showed them the data on so many additional deaths based on their own records. And then we kept on involving the media to create awareness.
What must each city or district do to counter the heat wave?
Each city should analyse its mortality rates on a day today basis.
They must compare death rates with the temperature on any particular date.
And after collecting the data they must compare the mortality rate of the city or district for the last 20 years and find out the answer.
If they cannot do it, then they must give the job to some university who can do this for them.
The threshold of A heat wave is different in different cities. Suppose you take the example of Mumbai, you need to take into account humidity and heat.
This is called heat index because it takes into account humidity and heat.
In coastal areas the temperature does not go very high, but then, you can also get a heat stroke if the humidity is very high.
Ahmedabad reaches 43 degrees centigrade and people will die due to a heat wave. This kind of temperature Mumbai will not see, but people will still get a heat stroke if the humidity is very high.
Mumbai will have 80 percent humidity compared to 10 percent in Ahmedabad.
We speak of global warming and why temperatures rise every year. Are seasonal weather patterns getting affected?
It is because carbon dioxide is accumulating in Earth's atmosphere. It is trapping solar radiation so greenhouse effect is the main reason.
Is there public awareness of the heat wave in our country. For that matter, is the government taking it seriously enough?
I don't know whether the Union government has appointed a heat officer in our country because as far as I know there is no heat officer.
Even though a heat wave causes disaster, there is no specific officer (assigned) to deal with this situation. They just have this as a part of the National Disaster Management team.
I don't know what are the activities of the climate change department.
The government has not started alerting people on the heat wave yet.
They should have come out with advertisements in the media on what preparations they should do to tackle the heat wave.
We made a lot of television commercials for heat wave awareness, I do not know what they are doing about it.
Moreover, other departments like agriculture and industry too must get in because productivity also gets affected as people cannot work due to heat.