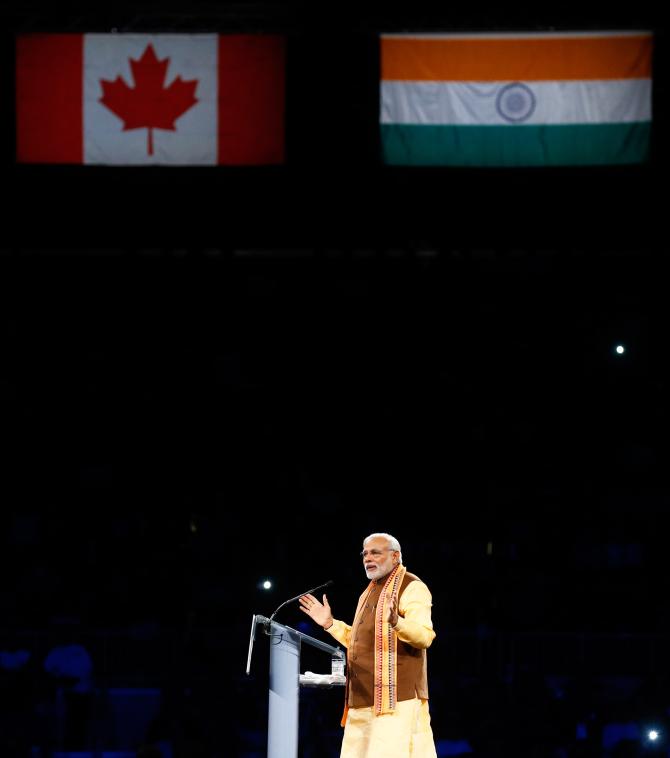 Prime Minister Narendra Modi talks during a speech to the general public in Toronto. Photograph: Mark Blinch/Reuters
Asserting that a new 'atmosphere of trust' has developed in India since he took over 10 months ago, Prime Minister Narendra Modi on Wednesday vowed to 'clean up' the mess left behind by the others.
"There is a new atmosphere of trust in our nation... We say 'jan gana man adhinayak' -- that 'Jan Man' has changed," Modi said addressing in Hindi an estimated over 10,000-strong Indian diaspora at Ricoh Coliseum in Toronto, Canada.
The prime minister said that development is a solution to all the problems that India faces. He said the country has all the capabilities it needs, it just needs opportunities now.
"Jinko gandagi karni thi, gandagi kar ke chaley gaye, hum safai karke jayengey (Those who had create a mess, they have done so and left. We will go after cleaning it up)," Modi said attacking the previous governments.
"India will provide the workforce to power global growth. Our mission is 'skill India', not 'scam India'," he said. As the audience repeatedly cheered with chants of "Modi, Modi", the prime minister said that whatever is happening is not due to him but due to the people of India.
Recalling a Bollywood song, Modi said that 10 months ago, the government in India changed and now the ethos of the people have changed.
He said that India's biggest treasure is its youth and his aim was to see them as 'job creators'.
"Eighty crore youth population, 80 crore dreams, 160 crore strong hands. What can we not achieve?" he said, adding that he wants the youth to be job creators not job seekers.
Modi thanked Canada and his counterpart Stephen Harper for the immense enthusiasm with which they expressed their love and said the relationship between the two countries will be 'very long and fruitful'.
"My experience of working with Canada has always been very good right from the time when I was the Chief Minister of Gujarat. Canada partnered with Gujarat in 2003," said Modi, who is the first Indian prime minister to undertake standalone bilateral visit to Canada in 42 years.
"The decisions we have taken today have been taken in a friendly atmosphere. Our association is going to be very long and a fruitful one," Modi said, referring to his bilateral talks with Harper and the agreements signed after that.
Speaking at the same event, Harper earlier said, "We are here tonight to celebrate the special friendship that exists between India and Canada. It is a friendship we truly value."
Canada has agreed to supply 3,000 metric tonnes of uranium to energy-hungry India from this year under a $54 million five-year deal to power Indian atomic reactors, four decades after bilateral cooperation in this sector was frozen over India's nuclear programme.
The agreement for uranium supply, which came two years after protracted negotiations following the 2013 civil nuclear deal between India and Canada, was signed after comprehensive talks Modi had with Harper in Ottawa.
Canada is the third country to supply uranium to India after Russia and Kazakhstan. The supplies will be under the International Atomic Energy Agency safeguards.
Referring to the Swachh Bharat campaign, Modi said it is not just the government but the people also are coming forward with initiatives to clean their surroundings. He spoke about the effort of cricket icon Sachin Tendulkar in this regard.
"It is a sign of the change in people's attitude (jan man) in the country. There is a lot of mess to be cleaned and it has been there for a long time now," he said.
He spoke about the government's step to build toilets in schools especially for girls.
"People wonder if the prime minister should talk about such things... Others may be different but I will talk about such small things... The face of India will change with such small steps," Modi said.
The prime minister spoke about the campaign to give LPG subsidy and said gas connections will be provided to the poor, which will help check pollution and conserve environment.
"There is one antidote for all the problems. And it is not Modi but development. Development will take us forward. We have the strength. We only need opportunities," he said.
Modi said his government was focusing on infrastructure such as development of roads.
He said 'dignity for labour' has to be entrenched in the minds of Indian people.
Referring to the 'Mangalyaan', he said "We are the first country to reach Mars in its first attempt. Our Mars mission cost less than what it takes to make a Hollywood film."
Indian people have the talent but need to build on innovation, Modi said, adding his government has launched a major initiative in this regard.