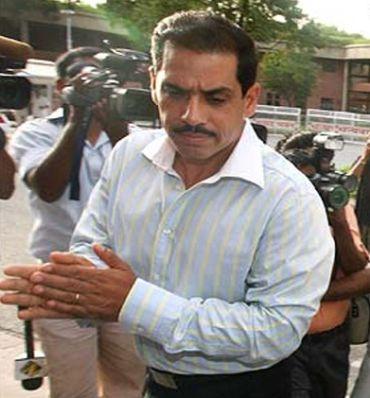 Had DLF not given Vadra the Rs 50 crore advance, he would not have had the money to go on a land-buying spree
In Bikaner, where
Robert Vadra
is said to have bought close to 800 acres between 2009 and 2011, locals say that his men offered land owners double the prevailing rate.
What they did not know was that in a few months' time, after the government had sanctioned some industrial projects in the area, the same land would be worth many times as much. Was Vadra aware that private companies were interested in the land he was buying? Did he know whether they had the necessary approvals for commercial development?
While the answers to these seem unclear, what is known for sure is that Vadra was helped by a few men -- some who sold land to him, some who bought land from him -- who made sure that he got a sweet deal, that he could buy cheap and sell high.
Sundaresha Subramanian lists these men who helped the first son-in-law strike gold with real estate.
The Kochi connection
Sreenivasan Krishnan, who runs Ashwin Enterprises, a recruitment agency in Kochi, was a director of the Vadra-promoted charter services firm Blue Breeze Trading. The fact that he was inducted into this role on the very day Priyanka Gandhi exited the company in 2008 lends him a tinge of mystery.
While the Malayalam media was quick to blame Krishnan and his connection to the Congress's first family for skyrocketing real-estate prices in Kochi and its suburbs, the man himself has said that the Vadras do not own any land in God's own country.
Krishnan, a product of the Indian Institute of Management-Bangalore, had his first brush with politics as officer on special duty to Kerala chief minister K Karunakaran in the early 1990s. When Karunakaran moved to Delhi, he took Krishnan with him, where he became close to the Gandhi family.
Blue Breeze was the most profitable Vadra firm in early 2008, making a profit of Rs 7.74 lakh. In contrast, Sky Light, which emerged as the main Vadra company after it purchased prime land in Manesar near Gurgaon, made a little over Rs 1 lakh that year. Krishnan quit as director at Blue Breeze and other Vadra group companies in February 2011.
Band of Fighters
Satyanand Yajee, the son of a freedom fighter who also runs an official body for freedom fighters, gave Vadra his first break when his company, Onkareshwar Properties, accepted a cheque worth Rs 7.95 crore for 3.5 acres in Shikohpur near Manesar, Haryana.
The company did not encash the cheque, and the land was later sold to DLF for Rs 58 crore. But for Onkareshwar Properties, the entry into the high-stakes Gurgaon real-estate business has become a bit too expensive and controversial. From official records it appears that Yajee started the company with the specific purpose of facilitating the Vadra deal.
Yajee's father, Sheel Bhadra Yajee, an INA veteran and founder of the All India Freedom Fighters Organisation, is said to have been close to Chaudhry Ranbir Singh, the father of Haryana Chief Minister Bhupinder Singh Hooda. Onkareshwar Properties now has a networth of over Rs 136 crore.

The benevolent buyer
K P Singh has talked of his encounter with Rajiv Gandhi in his memoirs but there is no account of the one with his son-in law. Had Singh's DLF not given Vadra an advance of Rs 50 crore for the 3.5 acre land in Shikohpur that he bought from Yajee's firm in 2008-09, Vadra would not have had the seed money to go on a land-buying spree spanning three states -- Haryana, Rajasthan and Delhi.
DLF also made Vadra a 50 per cent partner in Saket Courtyard Hospitality that owns a five-star hotel near Select Citywalk mall in Saket, south Delhi. DLF also made advances of Rs 25 crore in 2008-09 for other proposed sales.
The company said, in its rebuttal of India Against Corruption's accusations, that part of this money was returned after the sale of land in Faridabad fell through. It has also denied any undue favours to Vadra or a quid pro quo, maintaining that the relationship was pure business.
DLF also sold apartments to Vadra in premium townships such as Aralias and Magnolias, many of which he later resold at a profit. The prices of these showed a remarkable increase around the time Vadra and his companies bought them. According to IAC, seven flats in Magnolias and a 10,000-sqft luxury apartment in Aralias, which were bought by Sky Light Realty, are now worth around Rs 200 crore.

Land route to Legislature
Aftab Ahmad, MLA from Nuh constituency, was Vadra's real-estate man in Mewat, alleges Om Prakash Chautala, chief of the Indian National Lok Dal, which is the principal oppostition party in Haryana. In fact, the Vadra land deals are said to be what got Ahmad the Congress ticket in the 2009 assembly elections.
Refuting the allegation, Ahmad has said that he owned the land he sold to Real Earth Estate, Vadra's company, and that his family has been in politics for three generations. His becoming a legislator had nothing to do with Vadra, he says.
Chautala claims that the 27 acres in Shakarpuri village in Mewat district were sold between May 11 and 25, 2009 for Rs 2 lakh an acre, while the circle rate (the minimum rate set by the government) was Rs 16 lakh, and the market rate, Rs 50 lakh. Of the 27 acre, 17 acres belonged to Ahmed's wife, mother and two sisters-in-law.

Brothers in arms
Government records show that it was Mahesh Nagar who helped Vadra with the deals in Bikaner, in which his companies acquired hundreds of acres of land. He even signed the documents as Vadra had given him power of attorney.
A recent The Times of India report quoted sale deeds from March 2008 which showed Gurgaon resident H L Pahwa selling his land for Rs 36.9 lakh to a buyer named, "Robert Vadra through Mahesh Nagar".
Clearly, Vadra had vested some authority with Nagar. Pahwa, himself, was a director in one of Vadra's companies. Exactly how much land Nagar helped Vadra acquire in Haryana and Rajasthan is not known but sources claim it runs into hundreds of acres, the report said.
Nagar's brother, Lalit, is a member of the Haryana Pradesh Congress Committee and, it is alleged, was rewarded with a Congress ticket in the 2009 polls overlooking the claims of many senior candidates with decades of experience.
Though Nagar lost by a thin margin, he has continued to rise in Haryana Congress as "Vadra's man".