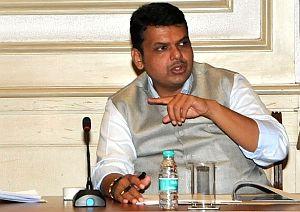 Seeking to differentiate water supply for Indian Premiere League matches and industry, Maharashtra Chief Minister Devendra Fadnavis on Wednesday said his government was not opposed to IPL matches.
"We did not say no to IPL. We just said we cannot give drinking water for IPL," Fadnavis told reporters at Vidhan Bhawan in Mumbai after the budget session of state legislature concluded.
The Bombay high court on Wednesday ordered shifting of all IPL matches scheduled in Maharashtra after April 30 to another state in view of severe drought in the state.
"IPL and industry cannot be compared. IPL is sports and entertainment. Lot of people are dependent on industry for jobs. The revenue we get from IPL is indirect," he said.
"We said (to the court) we will ascertain whether the source of water supplied to the IPL is 'sand pani' (waste water)," he said.
"We have made arrangements for water supply in industrial areas," he said.
The CM said government has tried to take most effective measures to tackle drought and water scarcity.
"We have made full preparations for cloud seeding and will go ahead when met department says so," he said, adding that the water train to Latur is one such measure.
A committee headed by Revenue Minister Eknath Khadse is being formed to take measures on drought relief and will include opposition leaders, he said.
"We managed to get the maximum quantum of financial assistance from the Centre to Maharashtra in the state's history," he said.
On the delay in filling up water in wagons of the water train to Latur, the CM said, "We are doing what the Railways are asking us to do."
"Railway minister Suresh Prabhu has told us that railways won't charge anything for the work (water train) they are doing," he said.
"I feel there should be no more sugar mills started in Marathwada. We can shift sugarcane cultivation to drip irrigation," the CM said.
"If investors are coming to Maharashtra despite such a drought, it shows their confidence in Maharashtra," he said.