Facing flak for his 'democracy under attack' in India remarks in the United Kingdom, Congress leader Rahul Gandhi Thursday said if Indian democracy was functioning, he would be able to say his piece in Parliament, asserting that it is a 'test of democracy'.
After four leaders of the Bharatiya Janata Party have made an allegation about a Member of Parliament, is that MP going to be given the same space that those four ministers have been given or is he going to be told to 'shut up', asked Gandhi at a press conference, his first after returning from the United Kingdom.
He alleged that the whole 'tamasha' by BJP members in Parliament has been created by the government to divert attention from the Adani issue.
The BJP, however, hit back saying Rahul Gandhi has made it a habit to 'demean' Indian democracy on foreign soil and he must apologise.
Senior BJP leaders, including Union ministers, have attacked Rahul Gandhi over his remarks that democracy was under attack in India and there is a 'full-scale assault' on the country's institutions.
However, Congress leaders have denied that Gandhi made any anti-India comments.
Gandhi on Thursday came to the Parliament House after his return from abroad and met Speaker Om Birla urging him to allow him to speak in the Lok Sabha.
"So, if Indian democracy was functioning, I would be able to say my piece in Parliament. So, actually what you are seeing, is a test of Indian democracy.
"After four leaders of the BJP have made an allegation about a Member of Parliament, is that Member of Parliament going to be given the same space that those four ministers have been given or is he going to be told to shut up? That's what the real question in front of this country is right now," the former Congress chief said.
Gandhi said he told the LS Speaker that people from the BJP have made allegations against him and as a Member of Parliament, it is his democratic right to speak.
He said Birla was 'non-committal' on this and just smiled.
He also expressed hope that he will be allowed to speak tomorrow in Parliament even though he is unsure.
Claiming that the whole controversy (creation) was about distraction, Gandhi alleged that the government and Prime Minister Narendra Modi are 'scared' over the Adani issue and that is why they have 'prepared this whole tamasha' to distract.
The former Congress chief also did not take any questions from the media and said he would like to first place his statement on the floor of the house and after that, he will be happy to have any discussion.
"I went to Parliament this morning with the idea of putting (forward) what I have said or what I feel on the floor of the House. Four ministers have raised allegations against me in Parliament House, it is my right to be allowed to speak on the floor of the House," the former Congress chief said.
Responding to Gandhi's remarks, former Union minister and BJP leader Ravi Shankar Prasad said Gandhi's comments cannot become the 'barometer' of the success or failure of democracy.
He accused Gandhi of making it a habit of seeking to 'derail and demean' Indian democracy from foreign soil.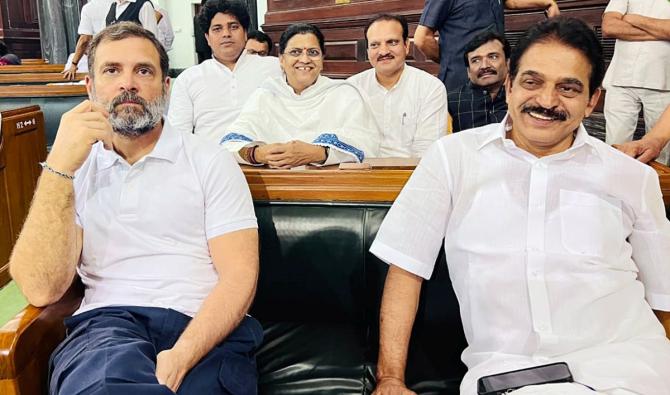 Union minister Piyush Goyal also reiterated the demand that Gandhi should first apologise for his democracy remarks.
Addressing a press conference soon after Gandhi's media interaction, Prasad said the Congress leader did not deny making comments against the state of democracy in India and seeking the intervention of the United States and Europe.
He said the BJP had posted the video of Gandhi's comments in Britain, urging foreign powers to take 'notice' of the 'falling standards' of democracy in India.
The BJP will continue to campaign against the Congress leader, seeking his apology for insulting the country and its people, he said.
"The same democracy elected him to Lok Sabha from Wayanad and the Congress to power in Himachal Pradesh recently, he noted, asserting that Gandhi begins raising questions on it after his party is defeated in elections. The Congress drew a blank in the recent assembly polls in three northeastern states," he noted.
All India Congress Committee general secretary of communications Jairam Ramesh said all opposition parties, barring a few who have a tacit understanding with the Modi government, are together and believe that what Rahul Gandhi has said is right.
"We have an undeclared emergency in our country," he alleged, claiming that all parties are with the Congress on this issue as well as on the demand for a JPC on the Adani issue.
Rahul Gandhi also said, "the story started the day I gave my speech in Parliament about Mr Adani and I had some fundamental questions to the prime minister -- about his relationship with the businessman, about how Mr Adani has been given pretty much the entire India -Israel defence relationship, how he has been given the Mumbai airport and other airports, how rules have been changed to allow him to be given these things".
"What happened in Australia between the prime minister, Mr Adani and the chairman of the State Bank and one of the Australian chief ministers of one of the states in Australia. It is the picture that is visible to everybody. Why is the prime minister of India sitting with the State Bank Chairman and Mr Adani and an Australian leader? What is he discussing? And after that discussion almost a billion dollars are pledged by the State Bank to Mr Adani," he alleged.
He also referred to a statement made by a functionary in the Sri Lankan government claiming that former president Rajapaksha had told him that Adani be given the contract and it was basically Mr Modi who told him.
The same was in Bangladesh, he claimed.
Gandhi's remarks during his recent trip to the UK have rocked Parliament, with both houses failing to transact any significant business on the first four days of the Budget session's second half which started earlier this week.
He also told British parliamentarians in London that microphones are often 'turned off' in Lok Sabha when an opposition member raises important issues.
Gandhi's remarks have triggered a political row with the BJP accusing him of maligning India on foreign soil and seeking foreign intervention, and the Congress hitting back at the ruling party by citing instances of Modi making similar statements when abroad and raising issues of internal politics.
© Copyright 2023 PTI. All rights reserved. Republication or redistribution of PTI content, including by framing or similar means, is expressly prohibited without the prior written consent.