The 18-year-old gunman who murdered at least nine people in a chilling massacre in Munich may have lured people to their deaths with a fake Facebook post offering free meals.
Police said they were examining a 'game' on the social network that asked people to be at the branch of the fast food chain where Friday's murderous rampage began in order to get free food.
IMAGE: Police officers escort people out of the Olympia Einkaufzentrum shopping mall after the shooting that left nine people dead. Photograph:

Joerg Koch/Getty Images



The chilling detail was revealed in a press conference in the wake of the attack which left nine people -- including the 18-year-old Iranian-German gunman -- dead.
The shooter has been identified as a dual nationality German-Iranian, who has been living in Munich for more than two years.
A total of 21 people were taken to hospital as a result of the incident -- three are fighting for their lives in critical condition and 16 are still receiving medical treatment.
Terrified shoppers were seen running for their lives from the Munich Olympia Shopping Centre after hearing gunshots.
Witnesses said that the gunman screamed 'I'm German' and 'Allahu Akbar' before shooting at children.
Police gave a 'cautious all clear' early Saturday morning, more than seven hours after the attack began and brought much of the city to a standstill as all public transit systems were shut down amid a massive manhunt.
Munich police president Hubertus Andrae said: "The perpetrator was an 18-year-old German-Iranian from Munich. The motive or explanation for this crime is completely unclear."
The shooter was not previously known to police and there was no evidence of any links to terrorist organisations, Andrae said.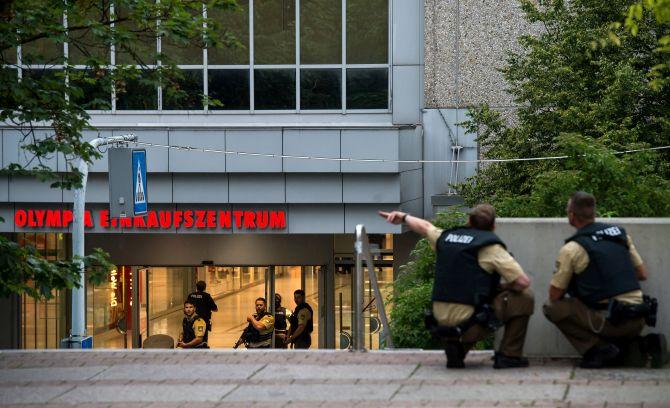 IMAGE: Police officers respond to a shooting at the Olympia Einkaufzentrum in Munich, Germany. Photograph: Joerg Koch/Getty Images
He added: "The question of terrorism or a rampage is tied to motive, and we don't know the motive. We can't question the suspect so this is all a little more difficult."
The mayhem began in a branch of McDonald's around 5.50 pm where the teenage killer opened fire on people before going outside and continuing to fire on terrified passers-by.
Shocking footage showed the moment the gunman pulled out a handgun and began firing at a group of people as they walked towards the fast food restaurant.
According to investigators, he then crossed the road and went into the Olympia Einkaufzentrum mall and continued firing at people.
He is then said to have tried to flee the scene, but was shot at by a plain clothed officer before managing to give police the slip.