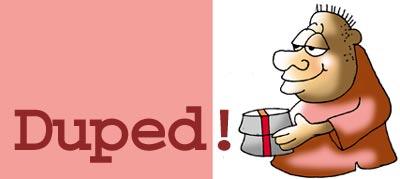 We were on our way from Nashik to Pune and decided to break for lunch at an inviting-looking roadside dhaba.
Inside, we were welcomed by the aroma of freshly-cooked food and the owner's wide smile.
We happily tucked into a delicious, satisfying lunch. The Butter Chicken, in particular, was amazing. My younger brother insisted we order a parcel for dinner as well.
The owner continued to chat with us and, by the by, we told him we were on our way to Pune. Before leaving, we thanked him for the delicious food and excellent hospitability.
By the time we reached home, we were starving and the only thing we could think of was the Butter Chicken. Eagerly, we opened the parcel…
Only to discover we had been duped. The friendly dhaba owner had charged us Rs 120 for a Green Peas Masala.
Jay Dabhade, Pune
The big helicopter

I was visiting my friend the other day when her three-year-old daughter began telling me about the helicopter her father had bought her. She described how big it was and how well it moved.
Then she dragged me to her room for a demo.
I walked in expecting a toy helicopter. What I found was a ceiling fan, which her father had put in her room expecting a repeat of last year's warm European summer!
Shamoli Das, Belgium
Illegal!

I am a programmer in a big MNC that has a separate team for handling day-to-day computer problems.
One day, our financial controller called. None of the members from this team were available, so I took the call.
Our FC, who is not very computer-savvy, sounded rather worried. "Prashant, I was working on our system when it suddenly showed me a blue screen. It is saying I have done an illegal operation. But, Prashant, I have not done anything illegal."
Prashant, Pune
It was my day

It was the day I would be interviewed. The atmosphere was very tense, more so because this was most likely the last firm on campus.
The selection process included a written test, group discussion and technical interview. I cleared the first two; within minutes of entering the third stage, however, I knew I was in trouble.
I was asked to rate myself on a particular subject on a scale of one to 10 and confidently said eight. What followed was unmitigated disaster. The panel asked me two questions on the subject. My answers were unconvincing.
I knew what was coming; the panel wanted to know why I gave myself eight.
It was a do-or-die situation. Much to my shock, I found myself saying that though I could answer the first two questions, I would answer the remaining eight and justify my rating. A couple of eyebrows were raised. Then, the panel moved on to the next question.
Five years later, I am still working for the same firm. I still can experience the elation I had felt when I saw my name on the selected list (so what, if it was last one!). I still don't know what saved me -- the daring display of confidence or plain luck or simply the fact that it was my day.
Kumar Vemuru, Bangalore
Illustrations: Uttam Ghosh