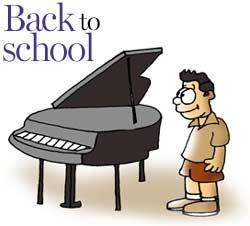 I arrived for the interview looking natty in my new clothes.

Saint Francis de Sales was a big school in Nagpur in the early seventies. My parents, who were keen I get admission there, warned me to take the interview seriously. To be polite, obedient, get admission and make them proud.

A priest in white robes was waiting as I entered the hall with my parents in tow. The customary questions inflicted on a five year old followed. I remember coming up with some pat answers.

After some gentle tabletop callisthenics intended to demonstrate my skill in problem solving, I was asked to spell out some of my favourite things. I believe I got away with this as well.

At one point, the priest offered me a sweet and asked me to identify the colour. In a trice, I was upon the confection, which vanished down my gullet. No answer was forthcoming.

The priest was patient and tried again. This time, he kept the sweet well out of range. I blurted "Green" before trying to grab it. He was kind enough to let me do so.

I was to spend five years in the school before my father was transferred to Kolkata.
I enjoyed the time I spent there. The real estate the school sat on was as delightful as it was varied. I remember the huge playing fields and the tall grass where we went 'hunting.' The music room with the first piano I had ever seen was as much a mystery as the enormous flagstones and shiny bits of mica we trod on to and from school.
Somaditya Roy, New Delhi
The translator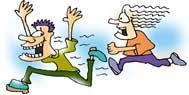 We were posted in Trivandrum, Kerala, for training in February 2001.
My roommates, like me, were from Tamil Nadu, but didn't know a word in Hindi.
Our batch included a pretty decent-looking girl from Mumbai. My roomies wanted to talk to her in Hindi, so they approached me for help.
They wanted to tell her, "Your friendship is the best thing in my life." I translated this into, "Hum tum ek kamre mein bund ho aur chabi ko jaye [We are locked in one room and the key is missing]."
I can still remember how the girl chased me around the hotel to hit me :).
Despite this, my roomie again asked me to translate "You look great in a sari" in Hindi. "Gale lag jaa [Give me a hug]," I told him happily.
Just as happily, this is what he told her in front of all our batchmates. For a minute, everyone was stunned. Then, they started chasing me... :)
Krish Srinivasan, Denver
Tumhara to baap bhi…

My three-and-a-half-year-old son is a very poor eater and makes faces each time a meal is placed in front of him.
Getting him to eat is always a trying task. I have to constantly remind him to chew, otherwise he just keeps the food in his mouth.
One day, after he brushed his teeth, I offered him a choice of dishes for breakfast. After refusing each option, he told me, "I won't eat at all."
I lost my temper, "Tumhara tho baap bhi khayega [Forget you, your father will also eat]." To which he innocently replied, "Mera baap to office gaya [my father left for office]."
I burst into laughter. My husband had left for office just 10 minutes ago.
Jaya Jaiman, Clarksburg, Maryland
Knowing one's own shape

As a first year student at Bijapur Engineering College, I participated in extempore speech competitions and even won the first prize a couple of times. As a result, some senior boys who spoke well considered me their competitor.
During the annual day competitions, I registered my name in the extempore speech category. My topic turned out to be 'Knowing one's own shape.' I was stunned! What could I say on this subject? I knew everyone would tease me the minute I announced my topic. Sure enough, the crowd started showing and whistling.
My competitors looked triumphant. They were sure I would not speak. But I did. I began by saying a human being's mental shape was most important and then spoke about how one should be good shape mentally to succeed in life!
A huge applause greeted my speech. I went on to win the competition.
Twenty years down the line, this incident reminds me why I always need to be positive.
Anupama, Sedam, Karnataka
Illustrations: Uttam Ghosh