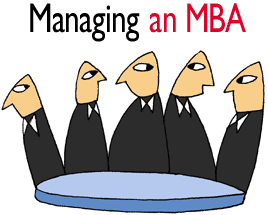 I was not totally surprised when I got the mail asking me to appear for the Group Discussion and Personal Interview from one of the premier management institutes in India. With close to four years of work experience and a good performance in the written test, I was looking forward to tackling the next stage in securing admission to their management course. 
A search threw up some interesting facts -- most concurred that GDs are normally civil and that the interviewers would focus on the topics one had opted for in one's bachelor's degree course.
But I knew better than to just brush up my basic Algorthmic and Operating Systems fundamentals and busied myself reading a variety of books/journals and magazines.
I reached the interview venue half hour early which gave me the chance to chat with some of the other candidates.A striking fact was that most of them were in their final year in a degree course and almost every male candidate wore a white shirt and a tie. I cut a lonely figure wearing a suit, but hey, no one can be faulted for dressing too well, can they?
Aside: A suggestion for those males who find it acceptable to sport a two day stubble -- please shave, a GD/PI is a formal affair, not a fashion contest.
At the appointed hour, all candidates were divided into groups of eight and sent to various rooms to begin their GDs (I later found out all the groups had been given the same case study).
All the candidates in my group were alpha (read super aggressive) males -- a couple of engineering types, one chartered accountant and a couple who had some work experience in the IT industry among others.
We were being monitored by three gentlemen who gave us terse instructions about the process.
We were given five minutes to analyse a case and the discussion was to last 20 minutes.  The case involved a business that had to consider collaborating with a bigger competitor in order to cut short-term losses. 
The culture shock began when I realised what was described as 'civil' in some descriptions of the GD was really a euphimism for a free-for-all. A couple of guys even fought for the chance to begin the discussion. More than five minutes passed before I could get a word in edgeways.
Apparently, everyone else seemed to feel the best way to prove how smart they were was to talk non-stop for the entire duration of the GD! Most of them used good connecting phrases like "That gives me a good segue to point that..." or "Taking on from what my friend just said..." These do sound very genteel, but it will really help if one doesn't contradict the previous speaker after starting off with such a phrase!
Having worked in the US for pretty much my entire career, I found this approach very shocking. There was no effort to evaluate all the data; no effort to listen to others' views, much less understand them; instead, there was just plain beating around the bush. The fact that this came from what was apparently India's crème de la crème was more of a disappointment than a shock. 
Contrary to what various training institutes imply/misguide, I'll conclude my treatise on the GD by noting the person starting the discussion would hardly win any points for showing leadership. What matters is how you help the group focus and reach a conclusion.A good approach, especially for cases that involve strategic decision making, would be to call for a vote in the last phase (last five minutes or so). I'm sure a lot of corporate boards take a vote on important matters. 
The personal interview confirmed my guess that cramming will not help one do well in the interview. The panel quizzed on me a variety of topics starting from Algorithm complexity to the role of the chairman of the Federal Reserve. The focus was on both the breadth and depth of knowledge and being well-read really helped. Of course, I didn't know the answers to a lot of questions and I did not make any SWAGs (silly wild ass guesses) unless asked to. 
The toughest part was to wait for the results. I was (naturally) very thrilled when I got the admission letter.
I'm no expert on clearing GDs/PIs, but I hope others will be able to learn from my experience.
Good luck.
Illustration: Uttam Ghosh