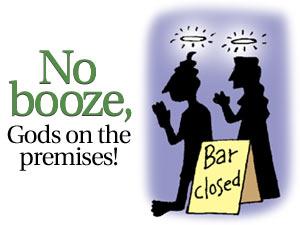 The highlight of a recent technology conference was a 'fashion show' where the CEOs of top IT companies would walk the ramp. Cocktails and mocktails of every hue were available at the well stocked bar, but whisky on the rocks seemed the popular poison.

Soon the 'fashion show' started and CEOs dressed as Mahatma Gandhi, Swami Vivekananda and even Lord Shiva and Parvati started emerging from the shadows onto the stage.

In all this excitement, those looking to pick up a drink were told the bar was shut for 20 minutes. Once the show was over, thirsty executives were told the reason. "Devi devataiyen aur mahapurush aa rahe the na. Toh unke saamne bar khula rakhna theek baat nahin hai [It wouldn't have been right to keep the bar open when Gods, goddesses and great men were on their way]!"
Priya Ganapati, Mumbai
Anklet tales
My daughter had just returned home from school. She seemed very tired. I couldn't really blame her; she had a heavy schoolbag to lug all the way and back though she was only in the third standard.
My wife, who was helping her remove her shoes, was most upset when she discovered one of Pooja's silver anklets was missing. She berated her, but Pooja was not particularly bothered.
My wife then informed me that I was going to have to search for the anklet since Pooja's school was in our village itself. Wanting to escape, or at least reduce the time spent on what seemed like a pretty arduous task, I turned to my daughter.
"Sweetheart," I asked her with a kindly smile, "where did you lose your anklet?"
She looked at me and smiled sweetly. "Daddy," she said, "if I knew where I had lost my anklet, I would have picked it up myself and brought it home."
A Ganesh Nadar, Panickanadarkudieruppu, Tamil Nadu
Hand milk?
All of us lay tremendous store by marketing surveys, but an insider's view of how they are conducted will make many of us blanch.

Over conversation looseners, an acquaintance recently revealed that, in his youth, he would earn pocket money by working for market research agencies. These agencies offered two kinds of jobs -- data collection and data tabulation. The payment was Rs 10 a day, not a bad amount 20 years ago.
After hitting the pavements in the summer heat and being put off by families who did not want to share personal information, our man devised a short cut. He would stand outside a house, get a 'feel for it' as he put it, look at the nameplate, the vehicles in the compound, try to peer into the window to intuit the number of family members, income level, etc.
Weeks later, he was actually given the task of tabulating the data he had so 'diligently' collected.
But, he said, it was not all drear for market surveyors. Once, while doing a survey for a milk product company, this friend ran into a woman who made up for her lack of English with vivid gesticulation. Everything went well, till he asked her what milk the family used. Gesturing as if she was milking a cow, she said helpfully, "Hand milk?"
Joseph Isa, Mumbai
Playing truant
My aunt, with whom I was staying in Delhi one January, had set me a 9 pm deadline that I thought was preposterous. One night, I convinced her I would be safe if I dressed up as a young Sardar boy, hooded jacket and all.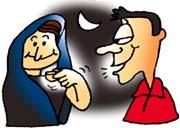 The temperature outside was nine degrees Celsius but my cousins and I were least bothered. Two guys were walking ahead of us, smoking beedis. That was enough to start us off.
"Oye yaar," I asked my cousins in my best Punjabi puttar accent, "tere naal koi cigarette-shigarrete hogee [Hey dude, got any cigarettes]?"

"Nahi yaar, ghar bhool aaya [Nope, I forgot them at home]," replied one.

"Kya yaar," I said, "thand mein mar jayenge. Woh dekh samnewale ladke kya masti se sutte laga rahe hain [Shucks, man, we'll die in this cold. Look at those two chaps ahead smoking so happily]."
We laughed uproariously until I realised my feminine giggles could reveal my identity.
We then stopped for some chaat. As I was gulping the golgappas, my hood slipped. It was clear I was no Sardar boy. In true Delhi tradition, a couple of guys began warbling a Hindi film song to tease me. My brothers stepped in. A glimpse of their bulging biceps and the wannabe eve-teasers melted into the fog. Literally.
Sukanya Verma, Mumbai
Illustrations: Uttam Ghosh
ALSO SEE
Birds, bees and elephants