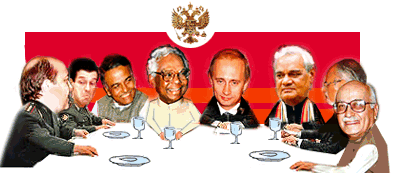 If my memory of Le Carre is correct, Smiley first met Karla, his KGB adversary, in Delhi. I met my first KGB operative -- albeit, one who retired from the service a few years ago -- in Delhi too. His grip was firm, his gaze cold. "Good evening," he said in English, as I cast aside all previous plans to inquire about the Kursk catastrophe, and mumbled, "Excellency, it is an honour to meet you."
A banquet at Rashtrapati Bhavan has that effect on a journalist, even one who has the cynicism of my trade surging through his bloodstream. I had come prepared to quiz Russian Foreign Minister Igor Ivanov on Moscow's plans to mediate in Serbia's disputed election, Deputy Prime Minister Ilya Klebanov and head of the Russian inquiry commission into the Kursk disaster, if the mother of a sailor who died aboard the submarine had been tranquillised in his presence because she dared to holler at him. In the event, all I managed when I shook hands with Vladimir Putin's closest aides was a mere, "Pleasure to meet you."
President Putin was not the only spymaster present at the dinner President K R Narayanan hosted on Tuesday night. In an oblique reference to the Russian leader's links with espionage, Rashtrapati Bhavan had invited two of our spymasters to the meal. I spotted M K Narayanan, the former director of the Intelligence Bureau and now a columnist for The Asian Age newspaper, instantly. After his retirement, the man once described as 'Mrs Gandhi's blue-eyed boy' has discarded his craft's anonymity and permitted a passport picture to accompany his columns.
But I would not have recognised the avuncular gent with the Tarzan hairstyle and walrus moustache as A S Daulat, the well-regarded director of the Research and Analysis Wing though, had I not spotted a card with his name on it five places away from mine at the dining table.
The guests for the Putin banquet were chosen carefully. While there were the inevitable invitees who star at most capital events -- sarod maestro Ustad Amjad Ali Khan and his wife, Hindustan Times owner Shobhna Bhartiya, India Today editor Prabhu Chawla, CII president Arun Bharat Ram and his charming wife Manju -- the list was highlighted by the Russian connection.
Both leaders of the Communist parties were present -- ailing CPI-M secretary general Harkishen Singh Surjeet who arrived after sacking party renegade Saifuddin Chowdhury (dunno if former premier Chandra Shekhar's "Bahut accha kiya aap ne" was in reference to that) and his CPI counterpart A B Bardhan. Former defence -- sorry -- raksha mantri Mulayam Singh Yadav, during whose tenure we negotiated the agreement for the Sukhoi aircraft; former atomic energy sultan Dr Raja Ramanna (one of the few Indians the Russians recognised and spoke to); columnist Mohit Sen, once a member of the CPI; Manubhai Shah, president of the CIS Chamber of Commerce.
Intriguingly, only one former ambassador to the Soviet Union -- a distinguished recent occupant at our embassy in Moscow, Ranen Sen, is still in the foreign service -- was present: Inder Gujral, our envoy to Brezhnev's court in the Emergency era.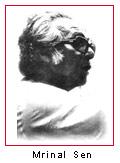 Director Mrinal Sen, like me a first-time invitee to a supper at the presidential palace, was unsure as I was about what to do with the card we had been given with our names and job descriptions. We were told to queue up and hand over the card at the appropriate moment to the ADC -- in this case, the dashing Captain Manoj Mathews, who at 26 has already won a Vir Chakra for action in Kashmir -- to be presented to the Rashtrapati and his guests.
Indians outnumbered the Russians who stood in line at the other end of the Ashoka Hall three to one. Our queue was headed by Vice-President Krishan Kant and his wife; Prime Minister Vajpayee; Speaker G M C Balayogi; leader of the Opposition in the Lok Sabha Sonia Gandhi; former PMs Chandra Shekhar and Inder Gujral (with wife Sheila); the Cabinet's L K Advani, Jaswant Singh, George Fernandes (whom many guests asked if Mamata Banerjee would withdraw her resignation), Yashwant Sinha, Dr Murli Manohar Joshi; Chitra Narayanan, the President's elder daughter and ambassador-designate to Sweden, Divestment Minister Arun Shourie and Dr Manmohan Singh (both gentlemen modestly stood at the end of the line until the MEA protocol crew persuaded them to join their peers ahead); Krishnam Raju, the new MoS for EA whom the protocol staff did not initially recognise as their new boss; the three service chiefs (General Sundararajan Padmanabhan making his first appearance at such an event after he took charge last Saturday); Foreign Secretary Lalit Mansingh and his wife Indira, Indian Ambassador to Moscow Satinder Lambah and his wife and sundry other folk.
Through every course, my heart went out to the prime minister, sitting about twenty places away at the long dining table in the banquet room. He sat there, clearly ill, his eyes closed through most of the meal, eating slowly, only exchanging a few words with his defence minister at the very end.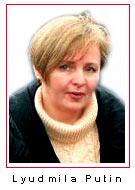 Flanking Lyudmila Putin on her right, he did not appear to exchange a word with the Soviet first lady who happily was kept engaged in conversation through dinner by the man on her left, President Narayanan.
What was dinner like? I was asked by my colleagues when I returned from Rashtrapati Bhavan. Even before the army of bearers, resplendent in their white and yellow ceremonial turbans and uniforms, began serving the mushroom soup in official cutlery placed on the silver salvers embossed with the Ashoka Chakra and Satyameva Jayate, I had been warned by my neighbour, that the fare "would be nothing much to write home about."
One Rashtrapati Bhavan staffer -- who assumed that as I do not drink I must be vegetarian as well -- thoughtfully placed a small rose bud (the badge for veggies) where I sat, guaranteeing me more paneer than I have eaten all year. One guest abandoned course three -- the cottage cheese was clearly too much for her -- while another complained quite loudly, "I do not know why they have so much paneer when we have so many vegetables in India!"
The music playing in the background was quaint. Though Ustad Amjad Ali Khan shook his head, telling Outlook ed-in-chief Vinod Mehta with some regret, "They are playing film songs from both countries," I thought there was some merit in playing both the theme song from Awara (it must be the most recognisable Hindi film song in the world; in May I heard a Chinaman sing "Awala Hoon" at a banquet in Dalian, China) and Alisha Chinai's Made in India, a hit in places as diverse as Baghdad and Baku. Lest the Russians missed the fervour of our message, the entertaining evening was rounded off by that Bachchan-Deol ditty from Sholay, Yeh Dosti Hum Nahin Todenge.
What was the atmosphere like, one crusty office veteran asked, apparently unimpressed by the honour accorded to rediff.com, the only Internet presence at the banquet. "Awesome," I said, adding that it was difficult not to be overwhelmed by the setting, startled by the history visible on the walls of the rooms I saw at Rashtrapati Bhavan.
A few minutes before the ceremony began, I had walked to the Darbar Hall where the transfer of power took place 53 years ago, and stood below the dome over which the Tricolour flies over the most visible symbol of the Republic. I was breathless for no reason I could think of. My eyes misted over. Under the gaze of history, we all become humble.
Nikhil Lakshman, no great partygoer, surprised everyone at rediff.com by setting out for Raisina Hills.
Page design: Lynette Menezes