Sonia Gandhi's iftar was meant to be a powerful show of unity of Opposition parties to take on the Modi Sarkar, but that was not to be...
Sheela Bhatt/Rediff.com, who attended the iftar discovers that the Congress has found little breathing space in the year after its 2014 debacle.
Image: Nitish Kumar, facing camera, and Sharad Pawar, back to the camera, at Sonia Gandhi's table at the iftar the Congress Party president hosted on July 13. Photograph: PTI Photo
As Congress Party President Sonia Gandhi's iftar on the evening of Monday, July 13, revealed, regional party leaders are unwilling to accord the leadership of any emerging Opposition combination to Sonia Gandhi or her son, Rahul Gandhi, the Congress vice-president.
Sonia Gandhi invited the entire spectrum of Opposition parties to her iftar, but without Samajwadi Party chief Mulayam Singh Yadav, Trinamool Congress chief Mamata Banerjee, Rashtriya Janata Dal supremo Lalu Prasad Yadav, Bahujan Samaj Party boss Mayawati, Sitaram Yechury, the Communist Party of India-Marxist's general secretary, and the doyens of Tamil Nadu's Dravidian parties -- none of whom turned up -- the power quotient of the event remained low.
Delhi Chief Minister and Aam Aadmi Party leader Arvind Kejriwal, who never misses such events, was not invited to the iftar.
Yechury was away in London.
Bihar Chief Minister Nitish Kumar -- a current favourite of the Congress Party's ruling family -- saved the blushes for mother and son by turning up at New Delhi's Ashok Hotel.
Omar Abdullah of the National Conference was also present.
Pakistan High Commissioner Abdul Basit attended the iftar briefly.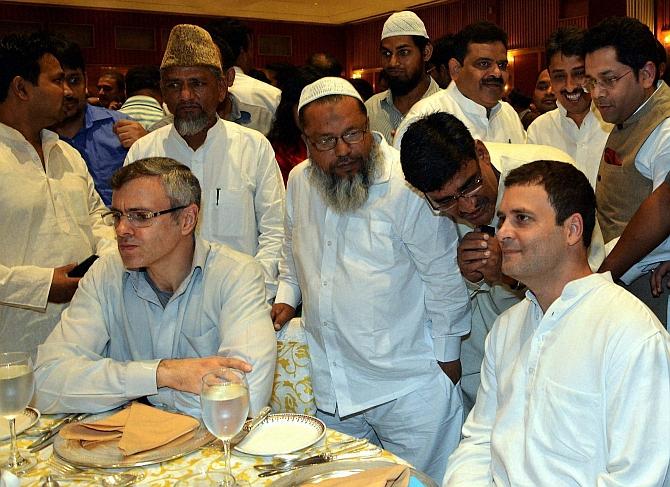 Image: Congress Vice President Rahul Gandhi and former Chief Minister of Jammu and Kashmir Omar Abdullah at the Iftar party. Photograph: PTI Photo
At one of the three high tables sat Rahul Gandhi with the Dravida Munnetra Kazagham's Kanimozhi and Sharad Yadav of the Janata Dal-United. His mother shared her table with Nitish Kumar and Nationalist Congress Party boss Sharad Pawar.
The third high table had former prime minister Dr Manmohan Singh along with former defence minister A K Antony, Prem Gupta of the RJD, Satish Mishra of the BSP and others.
This year's iftar fared better than the event Sonia Gandhi hosted last year and produced some hope for the rise of a different kind of Congress Party.
Wily Congressmen feel a significant revival for their party is difficult because the leadership has neither demonstrated strategy, confidence or able leadership in Bihar, Punjab, Assam and Uttar Pradesh, the four states going to the polls this year, in 2016 and in 2017.
But, they add, Prime Minister Narendra Modi's fort does not appear as impregnable as they believed at this time last year.
One Congressman, busy taking selfies with former ministers, was heard telling former minister Vayalar Ravi, "The fear of Modi has gone away. He lacks ideas."
"It is not likely that Rahul Gandhi will be made Congress president before the Bihar election," one former chief minister felt, adding, "How can you score a zero in your very first inning?"
This conversation occurred just 20 feet away from where Rahul Gandhi sat, talking to Kanimozhi.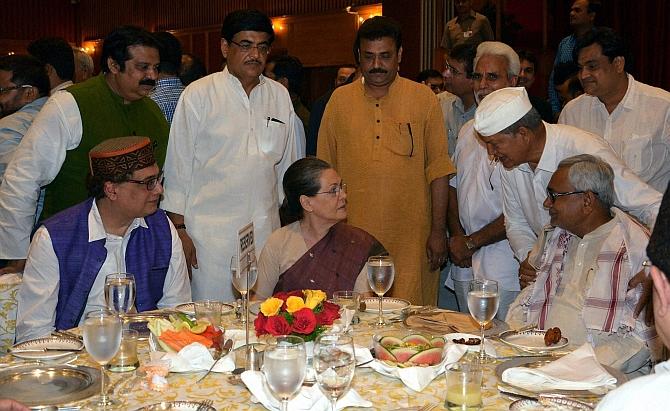 Image: UPA Chairperson Sonia Gandhi with Bihar CM Nitish Kumar and TMC MP Derek OBrien at her Iftar Party in New Delhi. Photograph: PTI Photo
The iftar was held a few hours after Pakistan took a U-turn over the Modi-Nawaz Sharif joint statement in Ufa, causing the government and the Bharatiya Janata Party immense embarrassment.
"When both sides met, I was happy," Dr Manmohan Singh told Rediff.com, "Both countries must talk. But I don't know what happened thereafter."
Several Congress leaders argued that the Modi government has failed its international diplomacy test since one ground rule in a complex bilateral relationship is that you do not declare victory so loud that it makes it impossible for the other partner to sell it on their home turf.
"Modi," one former Cabinet minister smugly declared, "is still learning the ABCs of diplomacy."
"Just two months ago, people were telling us that for the next ten years the Congress stood no chance of coming back to power," former Maharashtra chief minister Prithviraj Chavan said, "But Lalit Modi's scandal, the Vyapam scam, the loose talk of BJP leaders, mediocre appointments in big institutions and Modi's silence has changed things dramatically for us."
"The Congress is having an unexpected bonanza," R P N Singh, the former minister of state for home, said with a grin. "The Modi government is failing in its very first year."
"We have regained our confidence to take on the BJP which is not showing even one idea which will be a game-changer," boasted one Congress leader from Uttar Pradesh.
Lalu Yadav's absence was a talking point at the iftar.
When Rediff.com asked Lalu confidante Prem Gupta, "Is Laluji sulking? Is he upset with Rahul Gandhi?" Gupta, who has been against his mentor's alliance with Nitish Kumar, said, "Laluji and the Congress are not recent friends. We are age-old friends. In Laluji's mind there is tremendous respect for Sonia Gandhi. We can never express it enough."
Then, Gupta added, "Leave aside the fact that the Congress does not believe in reciprocity in relationships, but Laluji is not sulking. If it was so, then why would he send me here? He is having his own iftar party today in Patna."
Mulayam Singh Yadav, it appears, was set to attend the iftar, but 'Netaji' was furious about a UP Congress leader's comments against him on television on Sunday and flew to Lucknow, giving the event a miss.
In a letter of explanation he wrote Sonia Gandhi, Mulayam Singh claimed he needed to urgently consult his doctor in Lucknow. Unlike Lalu Yadav, Mulayam Singh did not depute any Samajwadi Party leader to attend the iftar. 'Netaji' was to be seated at Sonia Gandhi's table; his and his cousin Ram Gopal Yadav's name plates were removed before the iftar began.
With just a week left before the monsoon session of Parliament commences, the absence of top Opposition leaders at the Congress president's iftar suggests that in spite of the scandals involving BJP chief ministers Vasundhara Raje and Shivraj Chauhan, and External Affairs Minister Sushma Swaraj's controversial assistance to Lalit Modi, the Modi government may conduct some meaningful business after the first week's expected hullabaloo ends.
It is clear that the BJP is working to divide the Opposition to have an upper hand in both Houses of Parliament. A member of the Congress Working Committee told Rediff.com, "The absence of Mulayam and Mamata creates doubts in the Opposition camp. It seems the BJP has managed the necessary numbers in the Rajya Sabha to pass the GST (Goods and Services Tax) bill. If Parliament is allowed to function, the NDA (National Democratic Alliance) will push the GST bill in both Houses and have its way."
Since the GST bill is essentially a Congress baby, many Congress leaders feel it is not prudent to oppose the proposed legislation.
The fare served at the iftar was as 'average' as the Ashok Hotel's room service. Only desserts like jalebi and kulfi helped lift the mood of Congress leaders disheartened by the absence of Mulayam, Lalu, Mamata and Mayawati.
Image: Nitish Kumar, facing camera, and Sharad Pawar, back to the camera, at Sonia Gandhi's table at the iftar the Congress Party president hosted on July 13.