Sources told Rediff.com that the terrorist captured alive provided information about the absconding terrorists.
Rediff.com's Indrani Roy reports.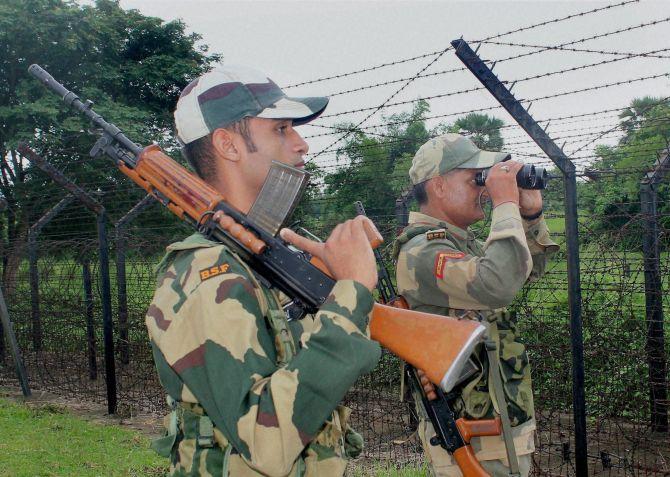 IMAGE: Border Security Force personnel keep a vigil along the India-Bangladesh border at Shivrampur near Balurghat in West Bengal's south Dinajpur district. Photograph: PTI
Even as Bangladesh mourns the loss of 20 lives, two days after the worst terror attack in 40 years, reports have emerged that two terrorists involved in the horrific murders may try to sneak into India.
According to Bangladesh home ministry sources, the two terrorists are headed towards Bengal, which shares a border with Bangladesh.
"The terrorists may also try to enter India through Assam and Tripura," a source in the Bangladesh police told Rediff.com
The information has reportedly been passed onto the Bengal government.
Five terrorists were killed and one was captured alive after Bangladesh commandos stormed the Holey Artisan Bakery on Saturday, July 2, to end the 12-hour hostage crisis.
Sources told Rediff.com that the terrorist captured alive has provided information about the absconding terrorists, one of who has a bullet injury.
Sources at the Bengal secretariat, however, said the state government has no confirmation on the terrorists' movement.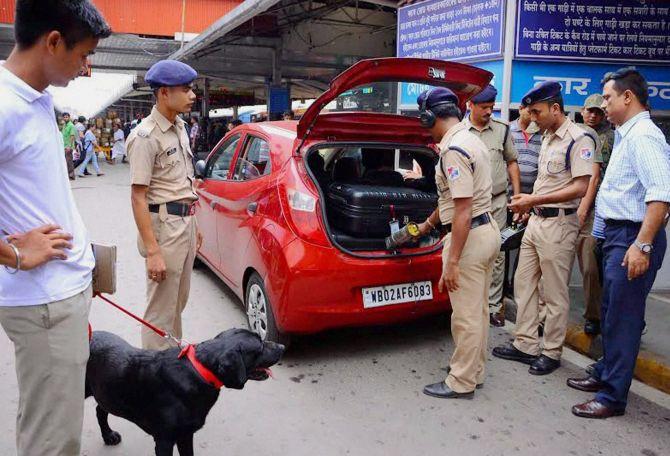 IMAGE: Security personnel conduct a check in Kolkata after the Dhaka terror attack. Photograph: PTI
After the Dhaka attack, the Bengal government sounded an alert in the border areas, at the airport and all important railway stations.
The government has also asked villagers to report the presence of any suspicious person or group in their areas.
On October 2 2014, an explosion at a house in Bardhaman's Khargarh town blew the lid off a terror network in West Bengal.
The National Investigation Agency said those terrorists had planned serial blasts in Kolkata and parts of Bengal during Durga Puja and Bakri Id that year.
Cadres of the terror outfit Jamat-ul-Mujahideen Bangladesh, a wing of the Harkat-ul Jihadi Islami-Bangladesh, sources had then told Rediff.com were involved in the Bardhaman blast.
These terrorists sneaked into Bengal through its porous border during an anti-militancy drive launched by the Sheikh Hasina government.