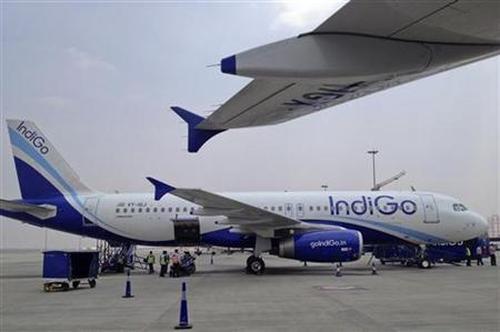 Aviation watchdog Directorate General of Civil Aviation on Monday ordered IndiGo and GoAir to immediately ground 11 A320 neo planes powered with a certain series of Pratt & Whitney engines after three incidents of mid-air engine failures in less than a month.
Concerns over safety of such planes increased with another engine failure forcing emergency landing of IndiGo flight at Ahmedabad airport on Monday, and the regulator has cracked the whip saying that there is no concrete proposal in place at this stage to address the issue.
A total of 14 A320 neo aircraft fitted with specific series of engines -- 11 are operated by IndiGo and 3 by GoAir -- have now been grounded.
Three IndiGo planes are already on the ground following the problem.
Citing safety of aircraft operations, the DGCA said, A320 neos fitted with PW1100 engines beyond ESN 450 have been grounded with immediate effect.
'Both IndiGo and GoAir have been told not to refit these engines, which are spare with them in their inventory,' the DGCA said in a release.
It said it will be in touch with stakeholders and review the situation in due course and when the issue is addressed by European regulator European Aviation Safety Agency and P&W.
A senior DGCA official said 8 aircraft of IndiGo would be grounded.
"We are in receipt of the communication from the DGCA and we shall promptly comply with the directions of the DGCA.
"Upon implementation of the directive, IndiGo shall have a total of nine A320neo aircraft on ground," an IndiGo spokesperson said.
However, there is a mismatch between the number of grounded planes given by the DGCA and IndiGo while clarity is awaited from the latter.
"GoAir has received the directive from the DGCA for immediate grounding of all late serial number PW GTF engines. We have complied immediately," a GoAir spokesperson said.
In a statement, P&W said, it is working closely with customers to minimise disruption.
'The corrective action has been approved and we have already begun to deliver production engines with the upgraded configuration. We are working to mitigate the Aircraft on Ground (AOG) situation by the end of the second quarter,' it added.
Sources said the grounding of A320 neo aircraft will have an impact on the flight operations of IndiGo and GoAir.
It is rare for the Indian regulator to ground aircraft and the latest one is at least only the third such instance in decades.
Back in 1990, A320 planes operated by then Indian Airlines were grounded following a deadly crash that had killed 89 people.
Later in 2013, Air India's Boeing 737 aircraft were grounded in the wake of lithium battery issues. Both bans were subsequently revoked.
According to the regulator, P&W in its latest communication has also not given any firm commitment as to when the issue on the engine post serial number 450 would be resolved.
P&W has also informed that "all the affected engines will be replaced by early June 2018", the DGCA said, adding that there is no concrete proposal in place at this stage to address the issue.
In less than three weeks, there have been as many incidents of in-flight shut down of A320 neos fitted with one P&W 1100 engine.
Besides Monday's incident, there were two -- one with GoAir plane after take-off from Leh on February 24 and another was with IndiGo following take-off from Mumbai on March 5.
Earlier in the day, Civil Aviation Secretary R N Choubey had said that an appropriate decision would be taken on Monday.
Choubey said the regulator has put in place enhanced safety checks and was satisfied with the measures with respect to the issue of oil chip detection -- an issue that had plagued A320 neos powered by P&W engines.
Following in-flight shut down in A320 neo fleet worldwide fitted with PW1100 engines (from serial number 450 and beyond), EASA, on February 9, had issued an emergency airworthiness directive.
Subsequently, three A320 neos of IndiGo fitted with both the affected engines having engine serial number 450 and beyond were grounded.
However, 11 other A320 neo -- 8 of IndiGo and 3 of GoAir -- were allowed to operate as they were fitted with only one such affected engine, the release said.
On February 13, DGCA had said that it was monitoring engine glitches to ensure that safety is not compromised at any time.
Last week, Minister of State for Civil Aviation remained evasive on whether there are any plans to ground these planes and had said that the ministry has been working very closely with safety regulators around the world to decide the best course of action for the P&W neo engine.
There are around 45 A320 neos, powered by P&W engines, in the country. Out of them, 32 are with IndiGo and 13 are with GoAir.
The DGCA's significant decision also comes on a day when Suresh Prabhu took over the additional charge of Civil Aviation Ministry following the resignation of National Democratic Alliance ally Telugu Desam Party's leader Ashok Gajapathi Raju from the post last week.
Engine failure forces IndiGo flight to return; all safe
As many as 186 passengers on board a Lucknow-bound IndiGo flight from Ahmedabad had a mid-air scare after one of the engines failed, forcing the pilot to return back to the airport.
The Airbus A320neo plane, powered by Pratt & Whitney engines, made an emergency landing around 10.04 am at Ahmedabad airport, a little over 40 minutes after taking off.
However, there was no harm to any passenger, said Manoj Gangal, director of the airport.
In a statement, IndiGo said the flight 6E-244 from Ahmedabad-Kolkata (via Lucknow) experienced a technical glitch with its engine No. 2 after take-off. The flight crew carried out actions as per the standard operating procedure and landed back at the airport, following precautionary measures.
The incident takes place days after Jayant Sinha, the junior civil aviation minister, claimed that the government had put in place 'appropriate safety measures' for the P&W engines.
The matter is being investigated by the IndiGo flight safety team and the DGCA, the carrier added.
Gangal said a full-emergency was declared to enable the aircraft, which was carrying 186 passengers, to land safely.
"Fire fighter and medical services were put on stand-by ahead of the emergency landing," he added.