Whatever action is required as a result of the arrest is being taken at the level of the Indian government, diplomatic sources at the Indian consulate in New York tell Rediff.com's Suman Guha Mozumder.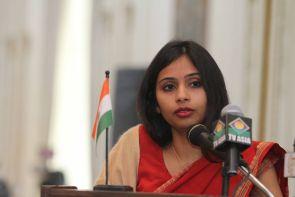 Dr Devyani Khobragade, the deputy consul general at the Indian consulate in New York who was arrested and later released last week in connection with an allegedly 'fradulent' visa application for her housekeeper and babysitter, is in a state of shock.
Diplomatic sources at the Indian consulate in New York said although Dr Khobragade has been coming to work since the beginning of the week following her arrest, she has not got over the humiliating experience.
"It is a traumatic experience for her," a source at the consulate told Rediff.com, "She has been coming and doing routine work at the consulate, although not so much. On the face of it, she is taking things in her stride."
Consul General Ambassador Dnyaneshwar M Mulay is back in New York. Mulay and other consular staff are giving Dr Khobragade support in every possible way, sources at the consulate said.
Dr Khobragade is the deputy consul general in charge of economic affairs, commerce and women. She reports to Consul General Mulay, who like her, is a native of Maharashtra.
Whatever action is to be taken with the United States government will be taken by the government in New Delhi and by extension the Indian embassy in Washington, the sources added.
"Right now, it is being played at the level of the Indian government," one source said, adding that no date has been fixed for her court appearance, if any.
Earlier, her attorney Daniel Arshack, who pleaded before US Magistrate Judge Debra Freeman during an initial appearance for her release on a personal bail bond that her client has diplomatic immunity, said no court date has been fixed as of last week.
Sources said a court date for her appearance might be given in about two to three weeks.
Image: Dr Devyani Khobragade, India's deputy consul general in New York. Photograph: Paresh Gandhi/Rediff.com