Gowda said that the JDS has only joined hands with the BSP which will continue in the 2019 Lok Sabha elections.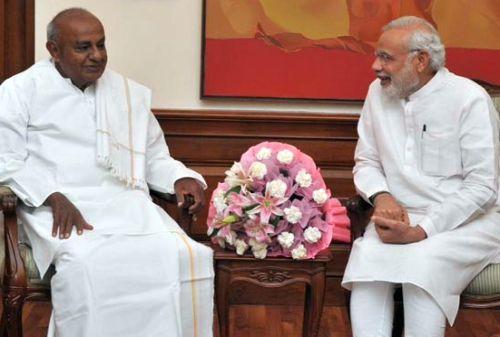 A day after Prime Minister Narendra Modi lavished praise on him at an election rally in Karnataka, Janata Dal-Secular supremo H D Deve Gowda on Wednesday sought to play it down, saying it did not mean both parties were cosying up to each other.
Gowda also slammed chief minister Siddaramaiah for suggesting that his party would back the Bharatiya Janata Party.
He claimed that it was Siddaramaiah who wanted to become chief minister in 2004 with the saffron party support when he was in the JDS.
Virtually endorsing Modi's criticism of Rahul Gandhi for having 'insulted' him, the JDS supremo also said a Kannadiga had become prime minister and Siddaramaiah tried to "demolish" Kannadigas' pride.
"This is how Congress gives respect to Kannada pride," Gowda, who was the prime minister heading the United Front government at the centre during 1996-97, told a press conference in Bengaluru.
He asserted that the JD-S would come back to power in the May 12 polls, and discounted possibility of a hung assembly.
"Maybe, by praising me, he (the prime minister) wants to gain sympathy. That is all. That does not mean there is an" understanding (between BJP and JDS)," Gowda said.
"In fact, the JD-S is confident of forming the government on its own with the cooperation of Telugu Desam Party leader Chandrababu Naidu, Chandrasekhar Rao (of Telangana Rashtra Samithi) and other friends in political arena... I do not expect a hung assembly," he said.
"I have been saying this and I will say this"again -- we are confident of forming government on our own," the JDS chief"said.
In remarks that raised eyebrows in political circles, Modi, while launching the second leg of his campaign blitz for the assembly elections, had lashed out at Congress president Rahul Gandhi for "insulting" Gowda, saying it showed his "arrogance".
Showering praise on Gowda at a rally in Udupi, the prime minister had said Gowda was one of the most respected and tallest leaders for whom he had great respect.
Modi's remarks relating to Gowda were seen as extending an olive branch to the JDS veteran to keep the options open for the BJP in the event of a hung verdict.
Hitting back at Siddaramaiah, Gowda said he "wanted to be the chief minister with the support of the BJP when he was in my party in 2004. I said no. Now Siddaramaiah is spreading this that I will support the BJP," he said.
He was responding to a query on Siddaramaiah's remarks that the JDS and the BJP have a tacit understanding for the elections.
The 2004 assembly polls had thrown up a fractured verdict with the BJP emerging as the single largest party.
The Congress, which lost power, and the JD-S had formed a coalition government then.
It collapsed after Gowda's son H D Kumaraswamy joined hands with the BJP and formed an alternative government with it.
Earlier on Wednesday in Hubbali, Siddaramaiah alleged there was a tacit understanding between JDS and BJP which was reflected in Modi's praise for Gowda.
"Deve Gowda should be admitted to old-age care centre. Who told this? Is it not the Prime Minister? Now he is praising him. What does this mean? This is a political statement and it clearly shows there is a tacit understanding between JDS and BJP," he said.
Gowda said that the JDS has only joined hands with the Bahujan Samaj Party which will make things easier for the party to gain votes in 20 places.
"This alliance will continue in the Lok Sabha elections too. Other than this, we have not tied up with any national party," he said.