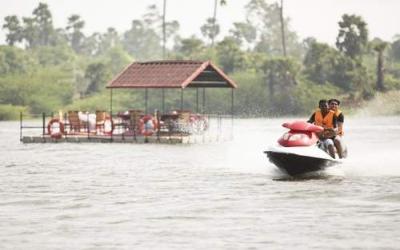 A section of AIADMK MLAs owing allegiance to party General Secretary V K Sasikala on Friday dismissed media reports and allegations from the Panneerselvam camp that they were being "detained" at a resort near Chennai, and asserted that they were "free".
V C Arukutty, MLA from Kavundampalayam in Coimbatore and a supporter of revolting Chief Minister O Panneerselvam, alleged that the MLAs were "detained" and "not reachable."
"The MLAs are not reachable. They have been detained. They are legislators elected by people, so release them. Let them go and meet people," he told media persons in Chennai.
However, the MLAs owing allegiance to Sasikala rejected the allegations.
"We are free. We are keenly awaiting Governor's invitation (to Sasikala to form government). We are not children to be detained or abducted as is being reported in a section of media," Perundurai MLA ND Venkadachalam said.
Some of the MLAs, including former ministers like himself, were made to stay put at one place to move swiftly in case there was a need in the wake of an invitation from the Governor, he told a TV channel.
Kattumannarkoil MLA N Murugumaran said he was staying at the resort near Chennai on his own volition and that he was paying for the expenses from his own pocket.
"There is no intimidation, no abduction, no pressure. These are all cooked up charges," he said.
While some of the MLAs were staying there, others were residing at places of their choice, he said.
Responding to reports that most of the MLAs were not reachable on the phone, he said he had switched off his mobile phone to avoid "unnecessary calls," and to avoid any kind of speculations and "wrong news."
Gudiyatham MLA Jayanti Padmanabhan also said she was not being detained as was being made out and lashed out at Panneerselvam.
Former Minister and senior party leader B Valarmathi insisted that the MLAs were free and alleged they were being "intimidated" by those close to Panneerselvam.
"The MLAs are free. They are being intimidated by Panneerselvam's relatives over phone and that is why they have switched off their mobile phones," she said.
*******
Another AIADMK leader joins Panneerselvam camp
In more support to revolting Chief Minister Panneerselvam, AIADMK leader E Ponnusamy on Friday joined his camp, and urged the party MLAs to back him.
Speaking after extending support to the chief minister, he said Panneerselvam had been identified by former party supremo J Jayalalithaa and appealed to the AIADMK MLAs to extend their support to him.
A former PMK leader and a Minister of State in the NDA regime during 1999-2001, Ponnusamy had joined AIADMK in 2013 in the presence of Jayalalithaa.
On Thursday, AIADMK Presidium Chairman E Madusudanan had extended his support to Panneerselvam, who had on February 7 raised a banner of revolt against party General Secretary V K Sasikala, alleging he was forced to step down for her elevation as Chief Minister of Tamil Nadu.
She had been elected AIADMK Legislature Party leader last Sunday.
Representative Image
© Copyright 2021 PTI. All rights reserved. Republication or redistribution of PTI content, including by framing or similar means, is expressly prohibited without the prior written consent.