Amid a gradual rise in daily Covid-19 cases, the Union health ministry said on Thursday that the XBB.1.16 subvariant of Omicron might be the dominant virus strain in the country but there has been no reported increase in the rate of hospitalisation or death so far.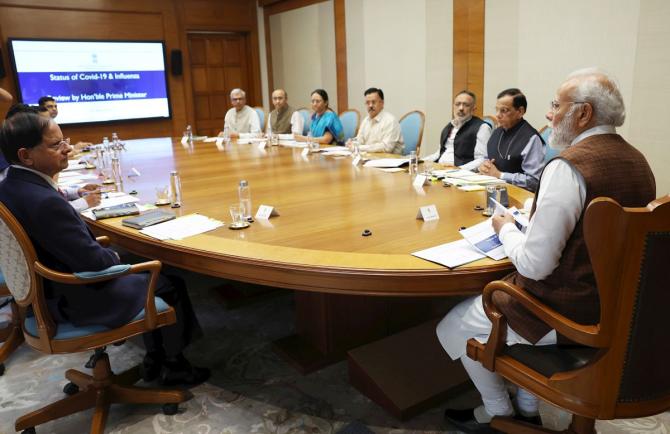 Health Secretary Rajesh Bhushan said 344 samples have tested positive in the last three months -- January, February and March -- for XBB.1.16 after whole genome sequencing. The subvariant has been found in states such as Maharashtra (105), Telangana (93), Karnataka (57), Gujarat (54) and Delhi (19).
"Omicron and its sub-lineages continue to be the predominant variant. No evidence of an increase in hospitalisation and/or mortality has been reported," Bhushan said.
He said XBB.1.5 and XBB.1.16 are variants of interest and under intense scientific scrutiny but they are not a "cause of immediate concern".
India has reported an uptick in daily coronavirus cases over the past week. Maharashtra, Gujarat, Kerala and Karnataka are among the states reporting a rise in the cases, according to the health ministry.
On Thursday, the health ministry data showed the country recorded 1,300 new coronavirus cases, the highest in 140 days. It showed that the active cases in the country have increased to 7,605.
On March 13, India reported 444 new Covid-19 cases while the active cases stood at 3,809.
Following the rise in cases, Prime Minister Narendra Modi held a high-level meeting on Wednesday to review the Covid situation and took stock of public health preparedness.
Bhushan said SARS-CoV-2, which causes the coronavirus disease, is changing over time like any other virus by acquiring mutations or by recombination.
As the virus becomes endemic, it generates a large number of variants and since the emergence of Omicron in 2021, close to 1,000 of its lineages have been assigned, which include approximately 100 recombinant variants, he said.
Most of the assigned variants have very little or no significant impact on the functional attribute of the virus like increased transmissibility, disease severity or immune escape etc, say experts.
Only a few variants or subvariants are designated as variants of concern (VOCs), variants of interest (VOIs) or subvariants under monitoring (SUMs) based on scientific evidence on their transmissibility, disease severity or immune escape properties, they say.
Bhushan said a detailed advisory was issued to seven states on March 16 for required measures for the management of Covid-19 and they have been advised to focus on the five-fold strategy of test-track-treat-vaccination-and Covid-appropriate behaviour.
The states have been asked to ensure enhanced lab surveillance and testing of all Severe Acute Respiratory Illness (SARI) cases, ramp up whole genome sequencing of positive samples, and follow the Union health ministry's guidelines for the management and vaccination of seasonal influenza cases.
They have also been asked to ensure the availability of required drugs and logistics for influenza and Covid-19 across health facilities and enhanced community awareness regarding disease and vaccination particularly precaution dose for the 18-plus age group.
© Copyright 2023 PTI. All rights reserved. Republication or redistribution of PTI content, including by framing or similar means, is expressly prohibited without the prior written consent.