Unfazed by the Shiv Sena protest and blackening of the face of Sudheendra Kulkarni, the organisers went ahead with the launch of former Pakistan foreign minister Ahmed Kasuri's book Neither a Hawk, Nor a Dove at a function in Mumbai.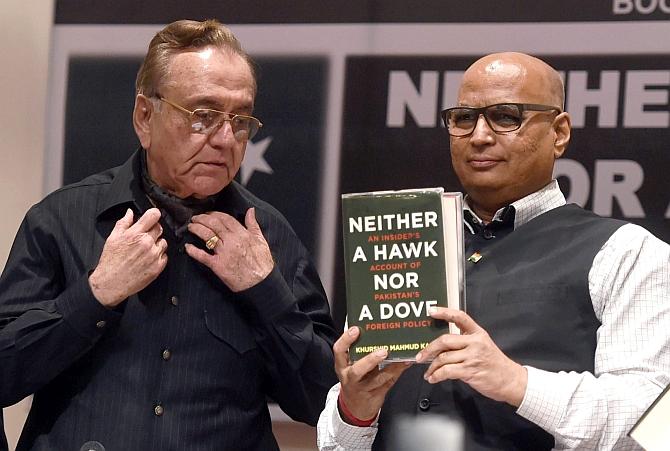 The event was held amidst tight security for the visiting dignitary in the wake of Shiv Sena' threat to disrupt the function despite appeals to it to give up its protest.
Kasuri himself echoed the sentiments after the morning's event outside the house of Kulkarni, chairman of the Observer Research Foundation -- the think-tank and organiser of the book launch show -- had left a bad taste when Shiv Sena activists smeared black paint on his face.
"I would like to thank Chief Minister Devendra Fadnavis for providing excellent protection (provided to him) ever since I landed in Mumbai airport (last evening)," he said at the book launch.
Taking a jibe at Shiv Sena, Kulkarni welcomed the former Pakistan minister to the megapolis of Mumbai in Marathi.
"I also express my deepest gratitude to all of you who have come to attend the function notwithstanding the extra ordinary circumstances in which it is being held. This shows your resolve, our resolve and common resolve, the resolve of millions of Mumbaikars to defend the values of tolerance and diversity," Kulkarni said while making opening remarks at the event held at Nehru Centre in Mumbai.
It was attended among others by noted lawyer and historian A G Noorani, journalist Dileep Padgaonkar and film actor Naseeruddin Shah, who were panelists at the launch.
Without naming Shiv Sena, Kulkarni evoked President Pranab Mukherjee's recent remarks that "tolerance and diversity and core values of Indian civilisation and these must be defended", he said adding "we shall defend them".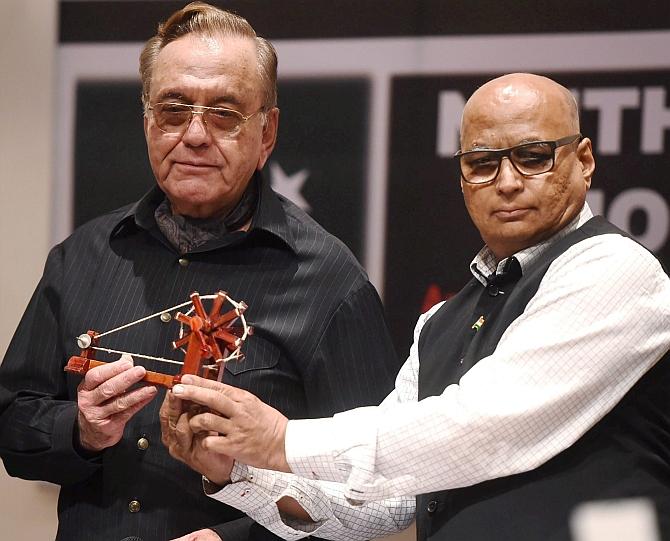 Terming Mumbai as a "tolerant, inclusive, liberal, democratic and multi-faith city", Kulkarni said the mega polis celebrates diversity of every kind including "diversity of thoughts and opinions".
"Mumbai cherishes the right to dissent. Mala maay Marathi baddal, Marathi Mumbai baddal apaar abhiman aahe. Mumbai Maharashtriy aahe, parantu tyachyadhi Mumbai rashtriy aahe, aantarrashtriy aahe (I am immensely proud of Marathi, Mumbai. Mumbai is Maharashtrian, but before that it is national and international city)," he added.
He said Mumbai has a very special place in India's freedom Movement with Mahatma Gandhi and Muhammed Ali Jinnah spending "maximum years" substantial part of their lives in the city, which served as "karma bhumi" of the both the leaders and attributed the book launch function as "an effort to undo the mistakes of the past" between the two nations.
He referred to a line from the book na banduk se na goli se, baat banegi boli se insisting dialogue between the two countries must go on irrespective of circumstances.
On his part, Kasuri said his purpose behind writing the book was to "correct perceptions" amongst people of the neighbouring nations.
Kulkarni also thanked the "principled stand" taken by Fadnavis over the issue and providing security for the event.
Images: Former Pakistan foreign minister Khurshid Mahmud Kasuri with ORF chairman Sudheendra Kulkarni during the release of his book, Neither a Hawk nor a Dove, in Mumbai on Monday. Photograph: Shashank Parade/PTI Photo