Despite being stuck in New Delhi's traffic and cancelling engagements due to heavy downpour, US Secretary of State John Kerry has had a "terrific" time in India over the last few days, his spokesperson has said.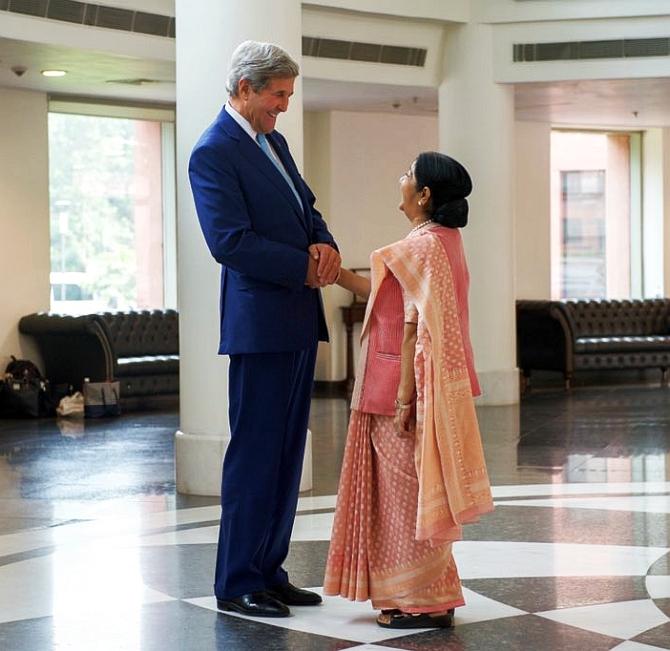 "The Secretary was very grateful for the support, courtesy and the time that he was afforded by Indian leaders over the last two days. I am a little befuddled that you want to make a diplomatic row out of the fact that some of the meetings didn't start on time," State Department Spokesman John Kirby told media persons.
Kerry, he said, has had a "terrific couple of days" in India.
Responding to a question on Kerry getting delayed for events and having to cancel visits to religious sites due to inclement weather, Kirby pointed out that many meetings at the Foggy Bottom headquarters of the State Department including his daily news conference does not start on time even when there is no rain.
"I was late for the briefing, and that wasn't even weather-related. But look, it's been a great couple of days... he was very glad to be able to be in New Delhi and to have these discussions, and we look forward to continuing that deep relationship going forward," Kirby said.
"There were some delays because of rain, and not even the Prime Minister, who we have great respect for, can do much about that. It's weather, and that it caused some delays I think would be expected," he said.
"As I understand from talking to Mark (Toner), my deputy, who is out there, this wasn't just a sprinkle. This was pretty significant rain, right up to the top of the tires on the cars."
Photograph: John Kerry/Twitter