Hardly anyone wears a mask and most brush off concerns over a pandemic.
It is not just scepticism over the existence of the pandemic.
A common refrain across villages is the fear of vaccines, reports Ruchika Chitravanshi.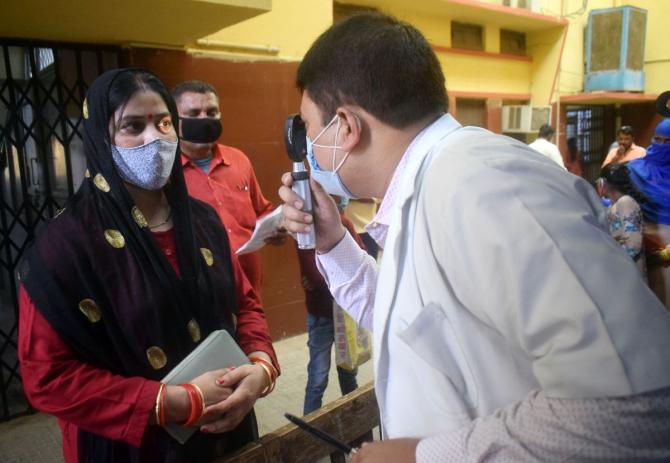 In the small village-town of Achheja in Gautam Budh Nagar of Uttar Pradesh, many houses have placed a bucket filled with water and neem tree twigs outside their doors.
The locals say that this means that there has been a death in the family recently, and all visitors are expected to wash at the entrance.
The village, which has a population of around 5,000, has witnessed about 25 deaths in the last one month.
"10-15 of them were just boys. Families have been destroyed...Covid hit us like a storm," says Harinder Nagar, the gram pradhan or the village head.
The lanes and by-lanes of Achheja are now deserted. Most shops are shut and people stay indoors, even though the cases have come down in the past week.
"Bhay hai logon mein (people are living in fear)," says Sudesh Kumar, one of the few doctors in Accheja, standing outside his small dispensary.
Kumar says that until a few days ago, there was a long queue of patients outside his clinic and he tried his best to help them.
He would tell them to do steam inhalation, drink coconut water, and have herbs such as tulsi, and give them paracetamol tablets.
He would grind harad, a herb said to improve immunity and longevity, and give it to his patients.
A mortar and pestle sit on his desk as testimony to that effort.
Of course, those who could afford it, would forgo these treatments and go to hospitals in the neighbouring city of Ghaziabad.
Achheja has access to one community health centre, which is located in the village of Badalpur and services around a dozen villages in the area.
According to the villagers, the health centre only gives medicines if you test positive -- it has no facility to provide oxygen or any critical treatment.
Nagar, whose brother has been recovering from Covid-19 and has been in a hospital for a month, had to run from pillar to post, trying to find a bed and arrange for oxygen.
He says that many have died outside hospitals, unable to access the oxygen they needed to breathe.
Blaming the panchayat elections and the Kumbh Mela for bringing the coronavirus to the villages, Nagar says that the government should not have become so lax in dealing with the pandemic.
"We have learnt that we are on our own. When tragedy strikes, we will neither get a bed nor medicines," he says.
The scenes are different in the neighbouring village of Badalpur.
Hardly anyone wears a mask here and most brush off concerns over a pandemic.
Asked about any deaths in the village from fever, cold and cough, a shopkeeper says, "Only old people have died who were not keeping well anyway."
A little farther away, in Bahuta village near Kakori, Anjali Behta has lost both her grandparents to Covid-19.
Behta, who is a school teacher, says that most people in her village do not believe in the pandemic and call it a hoax.
This, despite the fact that many in the village have died of fever and breathlessness in the last one month.
"They say he whose time has come has to go. If I wear a mask when I step outside, people make fun of me," she says.
Her grandmother, who Behta suspects caught the virus while campaigning for the panchayat elections, died a few days after getting a fever.
The primary health centre in the village, which opens for four hours every morning, gives the same medicine for any ailment, she says.
There is no other health facility in the villages nearby where patients can get proper treatment or oxygen support.
Even thermometers and pulse oximeters are hard to come by.
Kalpana Rawat, a government school teacher in Kanar near Malihabad, which is famous for its mango orchards, keeps an oximeter at home and lends it to those who need it.
Hers is also one of the few households in the village which has a car.
Over the last one month, her car has doubled as an ambulance to ferry many people to hospitals.
Rawat says that there isn't a single house in her village which has not been touched by Covid-19.
"Forget a hospital bed -- we have struggled to get treatment and oxygen cylinders. I try to teach my students about Covid precautions, but often their parents scold them for buying into all this," she says.
It is not just scepticism over the existence of the pandemic.
A common refrain across villages in this region is the fear of vaccines.
After one person died following his vaccination and several other people fell ill, villagers in Kanar are wary of taking the jab.
"My mother would not let me take the vaccine even though I know it is the wise thing to do," Rawat says.
There are also rumours that the vaccines cause infertility.
Some even see a government conspiracy in this. Plus, there is a lack of awareness about how to get registered for the vaccination on the CoWIN portal.
The government healthcare centres of some of the villages do have long queues of people who want to take the jab.
But tellingly, they are all from the neighbouring cities of Greater Noida and Ghaziabad.
Meanwhile, the Uttar Pradesh government has ordered gram pradhans to set up 30-bed hospitals in their villages, in accordance with the Centre's guidelines for tackling the pandemic in rural areas.
But the village heads are clueless about how to execute this instruction.
Says a bewildered Mohammed Mateen Ahmed, pradhan of Pahiya Azampur village near Lucknow, "Yogiji (chief minister Yogi Adityanath) has asked us to create a hospital with 20 beds. We barely have any health facilities. I am not sure how to do this."
Back in Achheja, a huge buggy with two handsome white horses bedecked with flowers, waits.
"There is a wedding in our village today. Only 50 people are allowed to gather," one of the bystanders says.
Amidst the procession of deaths, life and celebrations go on.